Christina Pazsitzky
Christina Pazsitzky is the lovely wife of entertainer, Tom Segura, best known as an actor and comedian.
Christina's hubby is well known for his stand-up special in which the funnyman often shares the craziest stories. He is also recognize for the podcasts, Your Mom's House and 2 Bears 1 Cave.
Products Mentioned On This Article
You've probably heard a lot about Segura, but do you know who is the woman behind the man? Want to know more about Christina Pazsitzky? Of course you do, here we'll tell you all the details about her, her hubby and the couple's family life.
Tom Segura wife
Let is introduce you to Tom Segura wife, the lovely Christina Pazsitzky, who is in fact a fellow comedian and hugely successful in her own right.
Christina who is certainly never bored at home, has been married to Segura since 2008. The two met while doing stand-up in Los Angeles.
Together they are parents to two children, sons Julian and Ellis. The couple welcomed their first child in 2016 and their second in 2018.
Christina Pazsitzky bio
Christina Pazsitzky like her husband, is an entertainer and is well known in showbiz as an actress and comedian who is also a writer and co-host.
She is easily recognized for the successful podcast Your Mom's House, which has been around since 2011 and which Christina hosts with her husband, fellow comedian Tom Segura.
She grew up in California and studied Philosophy at the University of San Francisco and Oxford University. She briefly attended law school but later dropped out to pursue comedy.
Christina is best known for providing her unique and humorous pop culture commentary.
As a stand up she has appeared on the Showtime special Red Light Comedy, TV Guide Channel's Stand Up in Stilettos, and Nuvo TV's Stand Up and Deliver. She's also performed at comedy festivals and comedy clubs across the world and has performed for the troops.
She was also on TruTV's How to Be a Grown Up, TBS' Funniest Wins with Marlon Wayans, and was a round table regular and writer on E!'s Chelsea Lately.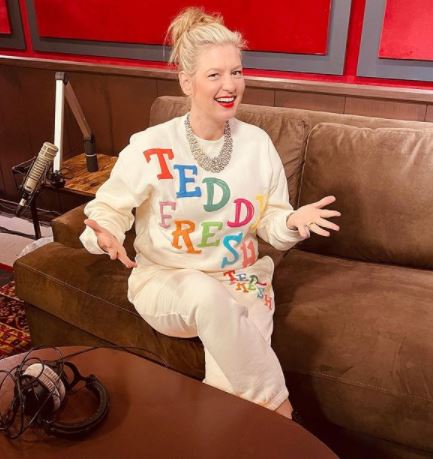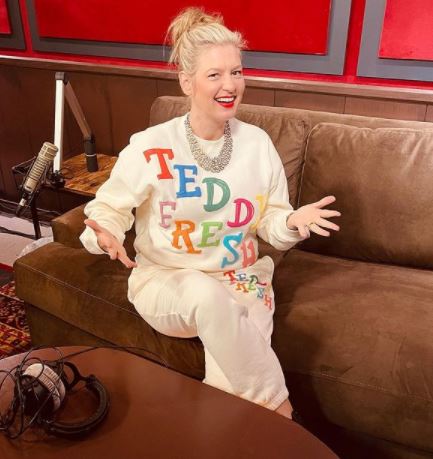 In addition, she has written on and lent her voice to several animated projects, such as the feature film TV: The Movie, the TV series Trolls, and narrated the documentary Can We Take a Joke?.
She was the recipient of Animation Magazine's "Up and Coming Writer" Award.
The TV personality and podcast host, has not one but two Netflix specials, The Degenerates and Christina P: Mother Inferior.
The Degenerates which was filmed in Las Vegas, Tom Segura wife discusses the upside of getting older and the Me Too movement. Her one-hour stand-up special, Christina P: Mother; Christina focuses on the realities of motherhood, marriage and her own childhood.
Christina Pazsitsky also hosts her own personal podcast, That's Deep, Bro; a podcast that covers topics you never talk about in everyday life, but should.
Where is Christina Pazsitzky from?
Christina Pazsitzky was born Christina Edith Pazsitzky on June 18, 1976. The Canadian native is actually the daughter of Hungarian parents who later relocated to the US.
Christina Pazsitzky Net Worth
Making people laugh certinaly pays off and even more when you have two Netflix specials and co-host a one of the top-rated podcasts.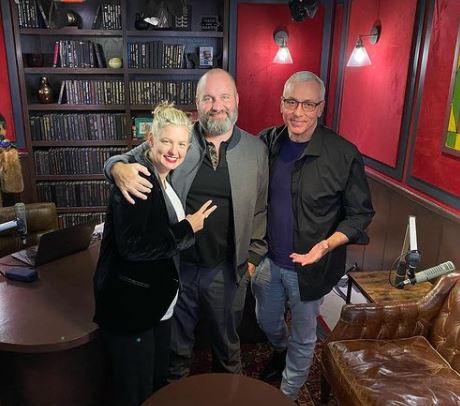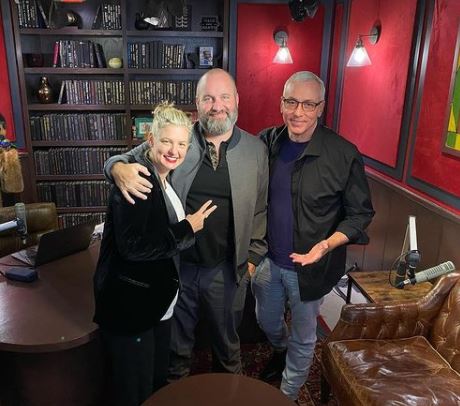 Is not then weird that Christina Pazsitzky has an estimated net worth of $12 million.
Online sources indicate that Christina and her husband share a combined net worth. In 2016 it was reported that Christina spent $1.6 million on a home in Woodland Hills, California.
Christina Pazsitzky Road Rules
The first time Christina Pazsitzky appeared on TV was when she was featured in the TV series Road Rules. She was a participant in an early season of MTV's popular show.
The show saw participants endure missions such as mountain climbing and cliff jumping that needed to be completed at the end of each episode.
The season took place in Hawaii and the continent of Oceania.
The former 'Road Rules' Star Christina Pazsitzky, stayed with MTV, joining the sixth season of The Challenge series; Real World/Road Rules Challenge: Battle of the Sexes.
Are Tom Segura and Christina Pazsitzky still together?
The answer would be yes, the couple has been married for the past 13-years and continue to go strong.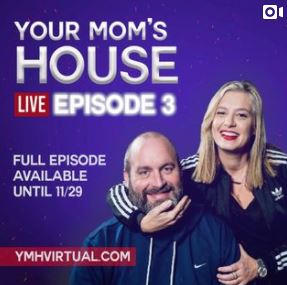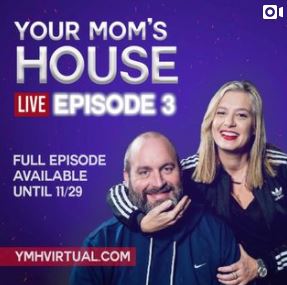 In fact, in 2020 she and hubby Tom moved into a new home in Pacific Palisades which they bought for $6.65 million.
How did Christina Pazsitzky got famous?
Tom Segura wife Christina Pazsitzky, began making a name for herself as she provided commentary on several television programs like E! channel's Wildest Moments and truTV's World's Dumbest.
Howeevr she and her husband hit the jackpot wiht the widely successful podcast Your Mom's House. The show has received top ratings on iTunes where it garners millions of downloads monthly.
Some say she got her big break after appearing at The Comedy Store in Los Angeles around 2001.
Where does Christina Pazsitzky live?
Christina Pazsitzky and her family have been longtime residents of California and currently make their home in Los Angeles.
What does Christina Pazsitzky do now?
At 44, the wife and mother of two has certainly conquered comedy. She keeps busy with her podcast and her Netflix standup.
She is also quite active on social media where she has over 480k followers and calls herself a 'Tik Tok Curator.'
Tom Segura bio
Tom Segura was born to a Peruvian mother on April 16, 1979; the Ohio native grew up in Minneapolis, Minnesota, and Vero Beach, Florida. He has made a name for himself as an actor, comedian and writer.
Segura graduated from Lenoir-Rhyne University. He began performing stand-up comedy shortly following his graduation.
Story goes that a drug and alcohol overdose changed his life and is what led him to pursue comedy.
In his long stand-up career, Tom Segura has made various TV appearances on late night talk shows doing so. In 2014, he released his first full one-hour special, Tom Segura: Completely Normal, to Netflix.
In 2016, he released his second full one hour special, Tom Segura: Mostly Stories, to Netflix.
His podcast, Your Mom's House, which he runs with his wife, Christina, was nominated for a 2012 Stitcher Award for Best Comedy Podcast.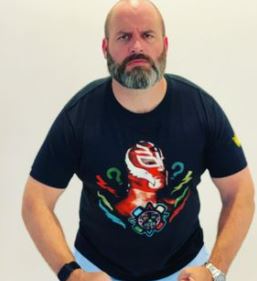 According to his website, Segura is one of the biggest names in the comedy industry.
His fourth hour-long stand up album sat atop the iTunes and Billboard Comedy charts for back to back weeks. In addition, his first two albums Thrilled and White Girls with Cornrows debuted at number 1.
His on-screen work includes the STX Film Countdown, Instant Family as well as TV apparitions on The Late Show with Stephen Colbert, Conan, Workaholics, Happy Endings, The Late Late Show, to name a few.
Segura who is a regular on radio shows and is a huge fan of College Football, is also fluent in Spanish and has a Spanish-language podcast called Tom Segura En Español.
Tom Segura Net Worth
The veteran entertainer has has combined net worth with this wife, fellow comedian/podcaster Christina Pazsitzky, of around the $12 million mark.
How did Tom Segura got famous?
Segura has enjoyed a steady rise to the top of the comedic world. He said about his style when he first began doing comedy
I used to do much shorter jokes a lot more. I wanted to tell stories and I would start to sometimes, but you need a skill set and you need to be comfortable and confident enough to do it. That just takes time. I was drawn to it early on, but I was definitely doing more methodical, short setups and jokes. It just kind of evolved into who I really am.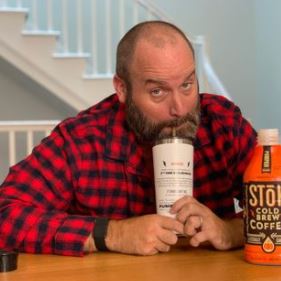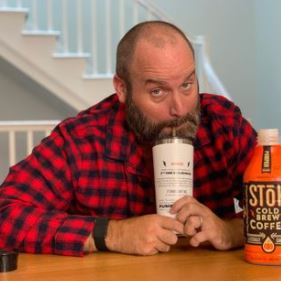 His career began changing after the release of his first Netflix special, he told Vulture about changes he has noticed since
It was great, but it was gradual. It wasn't overnight. I remember doing a weekend somewhere that summer and the guy was like, "I don't know how you did it, but you get a bonus." I didn't know how I did it either. I didn't even think about the special. By later that year I was selling out shows in clubs. By 2015 we were adding shows and selling bigger venues. It's been a gradual increase over time. I think it's great that it happened at a consistent progressive pace.
Tom Segura merch
Fan of Tom Segura? Want a cool Tee? Then you can head to Tom's website and find a trailer to his Netflix' special, a tour, video, video, rentals, livestream and even a store -where you can purchased his merch.
On the YMH Studios official online store, you can find different T-Shirts designs, his Disgraceful Vinyl LP, his CD and DVD. There's even a jean, hoodies and tank-top collection.
What does Tom Segura do now?
Tom who continues to co-host his successful podcast with wife, Christina and is pretty active with his performances; made headlines in 2020 after he revealed he had sustained several injuries.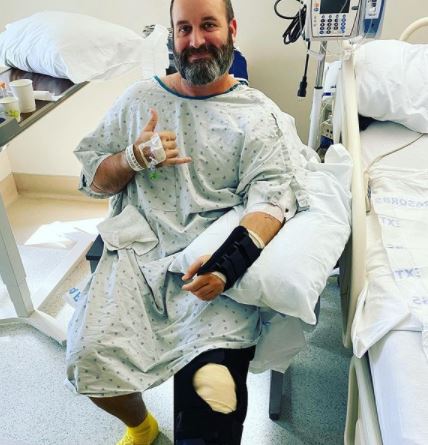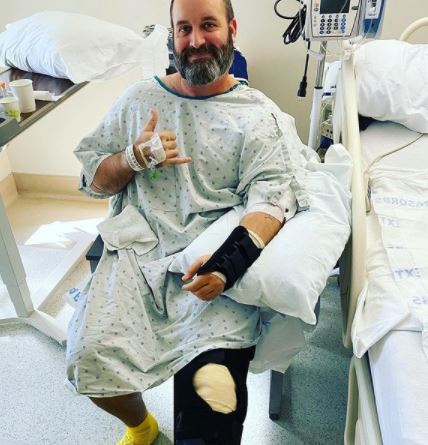 He shared a photo which showcased braces on both his leg and his arm. He later shared the cause of his traumas saying that it was so serious that he would have to cancel upcoming comedy jobs.
"I was injured yesterday and it really sucks, I can't move. Multiple broken bones. Unfortunately this means I will not be able to do my shows this weekend in Phoenix. We are looking at rescheduling dates now. Will announce them when I can."
As it turns out Tom injured himself while playing basketball with fellow comedian, Bert Kreischer.