The son of late TV veteran and three-time Emmy winner who starred in The Odd Couple and Quincy M.E. Jack Klugman is feeling a little "hurt" by the Sunday night's Emmy Awards ceremony, which failed to pay homage to his "genius" father.
Products Mentioned On This Article
Adam who as a child appeared with his father on The Odd Couple is the son of actress, singer and comedian Brett Somers. He has a younger brother named David. Their parents married in 1953 and although they separated the couple remained married until Adam's mother died in 2007.
Adam's famous father died last December and according to publications he is outraged that his father was not included to the traditional "in memoriam" segment that groups together industry members who died in the past year.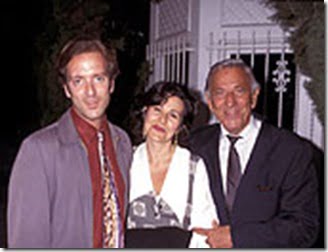 Adam Somers Klugman was born July 11 1963, he has a successful career as a media strategist and campaign consultant. He has a B.A in acting from the American Academy of Dramatic Arts, graduating in 1984. He ditch acting after only a few roles but his dedication and talent have earned him several awards, including: 2004 Winner, DNC Ad Contest, "America's Party" :60; 2003 Finalist, MoveOn.org's "Bushin30Seconds" Ad Contest, "Bankrupt" :30; 2002 Winner, Teddy Award for Video Editing, Oregon Ballet Theater "Flying" :60; 1998 Winner, Best Short Story, Santa Barbara Writers Conference.
The now, 50-year-old has more than 20 years in experience as a highly respected creative professional, he has worked with different agencies in in Los Angeles, Chicago, San Francisco and Portland. He is also the host of Mad as Hell in America, a talk radio show produced on AM 620 KPOJ out of Portland, Oregon; which demonstrates his ability to build inspired, hard-hitting messages around even the most difficult issues-like the one with his own father now.
According to his Linkedin he is currently the Creative Director at Progressive Media Agency. The democrat's list of clients include Nike, Disney, General Motors, Viacom, among others. His approach is considered to the work that consistently produces inspired results at the very highest level.
Do you think he has a right to feel Emmy executives disrespected his father's memory??
You can find him on Facebook here, or check out his personal website here.