46-year-old Alexandra Marie Llewellyn was the second and last wife of political thrillers author Thomas Leo Clancy Jr. They married On 26 June 1999, when she was 32-years-old and he was 53, making her 21 years his junior. They tied the knot in NYC, in an Episcopal church ceremony followed by a reception at the posh St. Regis hotel.
The couple had met for the first time in 1997 and introduced to each other by Colin Powell who is a family friend of Alexandra's father.
Products Mentioned On This Article
She comes from a wealthy family, the middle daughter of  J. Bruce Llewellyn and first wife Jacqueline Brown; her father's wealth was estimated to exceed $160 million. Her father being the former chief executive of the Philadelphia Coca-Cola Bottling Co. In 1999, the prominent businessman even sold his new son-in-law-Clancy- a vacant plot of land in Martha's Vineyard for $1.
Her mom, an assistant buyer for Bloomingdale's, New York, and a fashion coordinator for Famous Barr in St. Louis had impeccable style and was a key figure to her, along with her father's values of hard work that will shape her later to become a designer and philanthropist.
Alexandra also has a half-sister named Jaylaan Ahmad-Llewellyn who is a Harvard graduate and founder of Bluhammock Music and Bluhorse Clothes. Alexandra is also the niece of General Colin Powell, United States Army.
The wife of suspense-fiction titan and creator of such techo-thrillers as "The Hunt for Red October," "Red Storm Rising" and "A Clear and Present Danger" is a former television reporter, her talented husband was previously married to his college sweetheart, Wanda Thomas, after a 27-year marriage and four children. Their divorce became final in 1999 but had been separated since 1996.
But Alex Clancy's talent goes beyond her communication skills.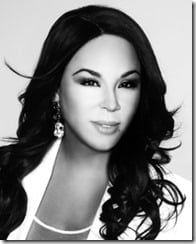 She was born in New York City, she graduated from Bradford College with a degree in Business. After a while as a on-air reporter she was eventually drawn back full circle into her first passion; the world of design. Her interest and instinct for the fashion world was undeniable, that's why she created LOVE, a line of handcrafted bags made in Italy. Imitating her father, she built a business that fuels the virtuous cycle of enjoying luxurious design while giving back to worthy causes. Love, Alex handbags are a bold blend of fashion, function and philanthropy.
Alexandra Clancy currently resides in Maryland. She and Tom were married for 14 years; she is also mother of the couple's only daughter, Paige.
Our prayers during this difficult time of the passing of her celebrated husband.