Gorgeous Astrid Bavaresco is a reality TV star who appeared in the reality spin-off WAGS Miami.
The sexy wag is currently based in Miami but she is a Venezuelan born beauty. The blonde is said to have been romantically linked to members of the Dolphins, Detroit Lions and Pittsburgh Steelers.
Get know more about the curvaceous Astrid Bavaresco in the facts below!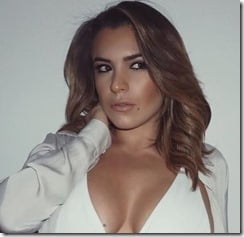 1. According to her LinkedIn, she is a Pediatric Speech Therapist.
2. She is a Santa Fe College graduate and also holds a Bachelor of Science (BS), from Nova Southeastern University.
3. She is in school studding to obtain her Master's degree.
4. She has a job at Dade Therapy –a Clinic for Speech, Language and Communication Disorders.
5. She is also into fashion. Astrid is a swimsuit designer.
6. She is an entrepreneur, Bavaresco opened her own company: Hera Swim Bikinis made for Goddesses –earlier this year.
7. She previously owned Oh la la Boutique in 2009.
Check her out on Instagram here.