Seen that face before? She is Brandi Brandt Playmate of the Month for October 1987 and former wife of Mötley Crüe bassist Nikki Sixx. The now 45-year-old former Playboy model Brandt has been extradited from the US to Sydney to face drug trafficking charges! According to online reports.
Brand who appears to be in some mess, appeared in a Sydney court after her arrival on Friday morning on a flight from Los Angeles and is accused of being involved in a cocaine importation syndicate that hid packages of the drug on Qantas and United Airlines planes from California to Sydney. How crazy is that! Court documents filed in Sydney allege that Brandt conspired with others to import a commercial quantity of cocaine between July and December 2007 at Sydney airport and It gets better a former boyfriend of Brandt, the Crusty Demons motorcycle stuntman Rusty Setser, was extradited to Sydney last month.
Products Mentioned On This Article
How about if we un-dust our memories on what we know about the former model. She was born Brandi Angela Brandt on 2 November 1968, in Santa Clara, California, USA. She is the daughter of rocker mom Brie Howard. The model and actress filmography includes, 1987 "Can't buy me love;" 1990 "Wedding Band;" a 1994 Aerosmith video; 2000 "Citizen Toxie" and 2001 "Ticker"
She also made a brief appearance in the sitcom "Married with children" playing herself.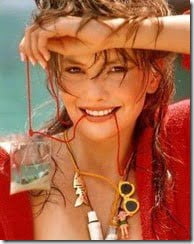 She married Nikki in May of 1989 and divorced seven years later. She gave birth to three children during her relationship to the bassist, Gunner Nicholas Sixx born 25 January 1991; Storm Brieanne Sixx born 14 April 1994 and Decker Nilsson Sixx bonr 23 May 1995. She sued her ex-husband Nikki Sixx during their divorce proceedings for $10 million. At the time she said Nikki walked out on her and their children; she ended up with six-million and the home they shared.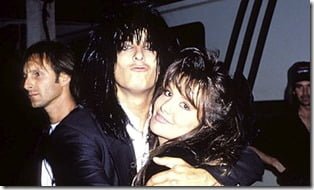 On her twitter feed, she says
mother of 3, maker of fine cakes & jewels..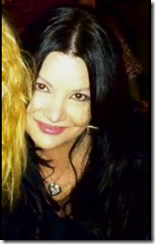 Her run-ins with the law date from 2009, when she was implicated in a cocaine smuggling ring. Do you think the jewlery designer, baker/decorator whose  custom hand made jewelry = rosaries, bracelets & necklaces, using skulls & crosses made of .925 sterling silver, and all other metals, hand carved bone & natural gemstones, is guilty?
Find her on twitter here and see more pictures on her Instagram here.