Gorgeous model Caterina Lopez is the girlfriend of Union J singer, JJ Hamblett. The couple became parents to a baby boy on Thursday morning! Caterina shared the happy news with her Twitter followers by posting an adorable photo of her newborn son's feet. JJ wrote within an hour of the birth,
"It's official at 9 30am today I became a Daddy," "The healthy" little boy has arrived at a weight of 6lb!!!!! soooo happy right now :)))) xx".
The proud parents named him Princeton J Alexander.Caterina and her X Factor star have constantly quizzed whether the gorgeous women are related but says he's never quite got to the bottom of it. When asked on whether J-Lo had been in touch to congratulate them on their baby news, JJ replied: 'No. There's been massive speculation about whether she's J-Lo's cousin, but I've never asked her.'
Products Mentioned On This Article
However, the star quickly backtracked, adding: 'It sounds stupid but I've never really talked in depth with her about it. I think she might be a third cousin, but she's never met her.'
On website Celebrity Tonic.com, 25-year-old Caterina is described as an actress and model from Arizona who tried her luck in the Indian Movie industry. The site claims she began the journey through a dance or item number as it is called in a Bollywood movie Bhindi Bazar Inc which released in 2001. It also says the gorgeous new mama gained much media attention through her interviews stating that she wished to marry an India guy and her crushes on Bollywood actors. Her plan didn't quite worked out huh!
Caterina also has a model profile on modelmayhem where she says she is currently based in London and gives us a brief on her details, the brown haired, hazel eyed 5′ 4″ tall model says she is very experienced modeling since 2009.
The couple only announced they were expecting back in September after sharing an ultrasound picture with their Twitter followers.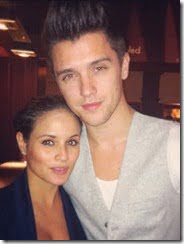 Thursday's news was met with plenty of congratulations from JJ' bandmates Josh Cuthbert, Jaymi Hensley and George Shelley.
We wish major congratulation to this adorable family of three!