Meet gorgeous Catriona McGinn, you might have heard she married iconic "Saved by the Bell" actor Mark Paul Gosselaar last year, but what else is there to know about his beautiful wife?
Catriona has become a mama for the very first time, she and hubby welcomed their first child together on Monday, Sept. 30! Their new bundle of joy is a baby boy named Dekker Edward Gosselaar, the little guy was born at around noon in Los Angeles, Calif.
Eight months after into their wedded bliss Gosselaar — already dad to Ava Lorenn, 7, and Michael Charles, 9½ — from first marriage to model Lisa Ann Russell; announced he and McGinn, were expecting a baby! And therefore expanding the family.
McGinn and hubby who swapped vows in July 2012, revealed that they were expecting in March. The couple tied the knot in a lovely ceremony at the Sunstone winery in Santa Ynez, California. Catriona seems to get along just fine with her new growing family, below we can see pictures of her spending some quality time along with Gosselaar and his children.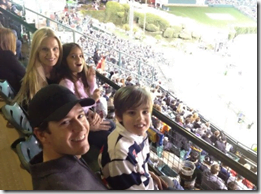 Although she is an advertising executive, Catriona could have easily been a runway model, who could have thought MPG could find a chick taller than him! In 2010 Catriona was welcomed to Media Monitors, a leading broadcast monitoring and verification service and advertising agencies. She was hired as a as Sales Executive, Prior to joining Media Monitors McGinn was the General Manager Nielsen BDSradio; overseeing product development, marketing, and national advertising sales. Prior to joining BDSRadio.com, McGinn worked as general manager for Sparknet Communications, L.P. in Vancouver, Canada, where she was integral in building the JACK-FM format.
She attended John Abbott College. Ste Anne De Bellevue, Canada graduating in 1998. She then went on to Simon Fraser University and McGill University in Montreal, Canada; graduating in 2002.
The couple seems to be enjoying their new life together in the journey of parenthood so we wish Catriona and her Franklin & Bash star hubby the very best!
You can find the gorgeous new mom on MySpace here.