Scarlett Byrne
Scarlett Byrne is the stunning actress girlfriend of Playboy heir, Cooper Hefner. The two have been dating for some time and have been engaged since 2015.
Scarlett's beau was born September 4, 1991. Cooper is the youngest of Hugh Hefner's four children. He and his brother Marston, 26, were born to Hefner's second wife Kimberley Conrad.
Their mother is a former Playmate of the Year, whom Hugh Hefner divorced in 2010 after 21 years of marriage.
Cooper's older siblings are Christie, now 64, and David, 61, from his father's first wife, Mildred Williams.
It's been widely reported Cooper has been groomed to take over Playboy by Hugh Hefner. Cooper was named the magazine's Chief Creative Officer in 2016.
Cooper previously left Playboy because he didn't agree with the direction the company was headed. "Playboy had made a number of decisions that didn't make sense to me prior to my involvement, but that was one of the major motivations of getting involved in the first place," he explained.
Cooper's girlfriend is everything you'd expect the son of Hugh Hefner would date.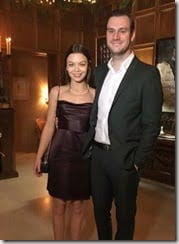 Byrne, is well known for playing Pansy Parkinson in the last three Harry Potter films. She was born Scarlett Hannah Byrne on October 6 1990. The English born began her acting career doing small roles on TV.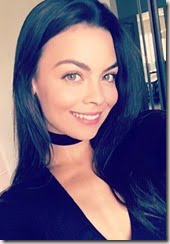 In 2005 she appeared in the short film CryBaby, before portraying Chloe Daniels in an episode of the British TV drama Doctors. Since then, she has made guest appearances in a number of TV shows such as the MTV TV series Mary + Jane. Most recently she also appeared in the TV series, The Vampire Diaries as Nora Hildegard.
In 2009 she landed the role of Pansy Parkinson in the sixth film in the Harry Potter series; having previously auditioned for the role of Luna Lovegood in Harry Potter and the Order of the Phoenix.
She then appeared as Brittany in Lake Placid: The Final Chapter –in which she losses her clothes for a sex scene in a car.
In 2013 she became a regular cast member for the fourth season of the sci-fi show Falling Skies –for which she had to move to Vancouver.
Scarlet who has been engaged since August 2015, said at the time: 'I was lucky enough to fall in love with my best friend.'
You can follow Scarlett Byrne on Instagram here.