Early this week it was reported Robert Pattinson finally moved on from his tumultuous relationship with his Twilight co-star Kristen Stewart, and the lucky girl who joined him at a friend's birthday party was just described as a brunette, but Robert Pattinson's new flame is no brunette but a sexy blonde, with some famous  parents of her own, her same is Dylan Penn and yes, her parents are Sean Penn and Robin Wright.
27-year-old Robert Pattinson has fallen for the beauty and the charm of Sean Penn's eldest daughter Dylan, according to some sources that saw them at the Viper Room..
"They were touchy-feely and very flirtatious. There was a level of comfort there," a source told the gossip magazine. "You could tell they've hung out a few times."
Products Mentioned On This Article
but they continued to show they PDA at Rob house where according to another source Dylan could have spent the night.
"They went into his kitchen, and he put his arms around her. Then he was kissing her neck and talking all lovey-dovey. It was clear they'd been out together before." When fellow guests left at 5 a.m., Dylan was still there."
"He has finally moved on, for sure," says one of Rob's pals."
Let Wagcelebrity tell you what we know about Dylan Penn's biography..22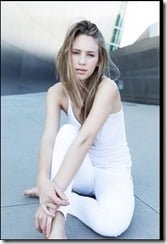 22-year-old Dylan Frances Bean is the first child Sean Penn and his ex-wife actress Robin Wright had, She was born on April 13, 1991 in Los Angeles, California. Ms. Penn became the  big sister of her brother Hopper Jack Penn born on August 6th, 1993.
Dylan had just celebrated her fifth birthday when her parents decided to get married on 27 April 1996.  Her parents remained happily married until 4 August 201 when they divorced.
Pretty Dylan Penn is a model,  dark blonde hair, gorgeous blue-green eyes, full lips fits perfectly on her  perfect proportioned  (34-26-34), 5'7" frame.  She is one of the gorgeous model with David Todd Model Management. Dylan studied at Marin Academy in San Rafael, CA.
Find Dylan Penn Google+ here, on Facebook here.
Photo Credit: DT Model Management