English actor and producer Greg Wise is married to Oscar-winning actress Emma Thompson. The fellow actors who tied the knot back in 2003 are parents of two. Their children are daughter Gaia Romilly born in 1999 and son Tindyebwa Agaba who is originally from Rwanda and was informally adopted at the age of 16 by the couple, back in 2003.
Greg is originally from Newcastle upon Tyne, Northumberland; the English man was born on born 15 May 1966 to architect parents. He followed into their steps by studying architecture at Heriot-Watt University while studying he performed with the Edinburgh University Theatre Company and later moved to Glasgow to pursued his passion for the arts. He studied drama at Royal Scottish Academy of Music and Drama.
Greg has participated in many British television works, as well as several feature films. Greg and Emma sparked flames while filming the 1995 movie Sense and Sensibility, where Greg portrayed the role of John Willoughby and she was Elinor Dashwood of course. Emma who was living alone at the time found comfort in Wise as the relationship with Branagh deteriorated. She told BBC Radio Four on how she was able to overcome depression:
Work saved me and Greg saved me. He picked up the pieces and put them together again."
The actor, producer, husband and father describes his perfect  weekend on an article from Telegraph,
Saturday night will often be spent in front of a DVD, with a big group of friends. Sometimes we'll have fish and chips with it. We're very lucky because we get to see all the Oscar contenders – usually 30 or 40 films – before they're released in the cinemas here. If you win an Oscar as Em has, or even if you've just been nominated, you become eligible to vote. There's usually a huge discussion just before the Oscars. She'll be holding the voting paper and asking us: "What shall I put for best film?" and we all tell her what we think. Sometimes there are flaming great rows – "It's the best thing ever made…" "No, it's the worst thing ever made!"
Emma has said about him, on he is a "Luxury Man"
"He can cook, wash up, clean, entertain children, understand maths homework, put up shelves, take them down and put them up elsewhere and repair the little holes left behind, garden with a purpose, drive sensibly but very fast on motorways and get on with my mother," she writes.

"The fact is that he's the only luxury I really can't imagine ever being able to give up."
The lovely couple whom we've seen in numerous red carpets were married in Dunoon, Scotland where they have a home but West Hampstead, London is where they live. Greg has also reveal he loves cooking and is the gardener of the family, growing turnips and cabbage and things!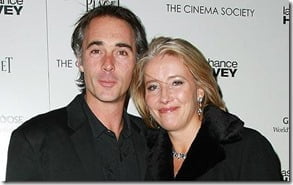 His wife who is seven years his senior Emma Thompson has revealed to The Mirror that she was sexually abused by a magician during her eighth birthday party. The 54-year-old Sense and Sensibility star said that she has also written a handbook about sexual awareness for her 13-year-old daughter Gaia.
During her revelations she also said parents can help their children by 'listening and being aware'
Greg is married to a very brave woman!