The relationship between 66-year-old actor and former Cali governor Arnold Schwarzenegger and Heather Milligan seems to be looking pretty smooth. The couple who's been dating for several months were spotted kissing after they shared a romantic dinner at Fig in the Fairmont Hotel on Friday night.
Products Mentioned On This Article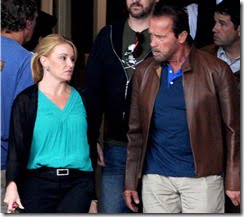 Heather who is a physical therapist in Southern California, and her client list includes many top NFL players and other athletes arrived separately but just before she left the actor slipped into Milligan's car to give her a goodbye kiss, reported TMZ.
After the actor expressed on several occasions he wanted to work things out with wife of 25 years Maria Shriver, he finally gave up and was spotted earlier this years with a "mystery blonde" that's when Milligan who is 38-years-old comes in the picture, although according to other publications the item has been seeing each other since last year.
When first spotted together, the pair dined at Babalu restaurant in Santa Monica, California, on Friday, Feb. 22. According to the newspaper, Schwarzenegger and the pretty blonde "laughed and smiled through their meal and left together in the actor's car." The two were photographed driving around L.A.'s Brentwood neighborhood the next day.
Milligan who was previously married as well, was born on November 09, 1974. Before she moved to California, she lived in Las Vegas, Dallas, and Colorado. She graduated from Loveland High School in 1993 and was married to Apichai Haisupa. The blonde and her husband lived together in Vegas and no word on why she separated or if she has any children from her previous marriage. On the contrary Arnold is a father of five and 28 years her senior.
They apparently have been taking things slow, dining, arriving in different cars, getting to know each other but with the kissing and papz around the actor all the time, is definitely a sign of him getting way pass his intentions of any reconciliation with his estranged wife.
Would you date Arnold Schwarzenegger after everything he's done — including fathering a child with his housekeeper while married to Maria Shriver?
Follow Heather on twitter here.