Meet long time partner of screenwriter, writer, film director, film and T.V producer Vince Gilligan; she is the beautiful Holly Rice. They are what we would call a total modern couple, they have been together for 22 years but without any ties or labels to their long time relationship.
They have been pictured together at several red carpets and award ceremonies smiling and enjoying themselves.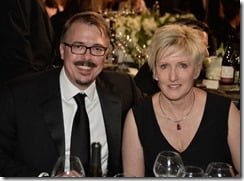 She is the woman behind the great mind of Gilligan and has shared her man's success many times; since his years as the 2001 co-creator of the thriller dramatic television series The Lone Gunmen and even way before that. The 46-year-old and his lovely lady first got together when he was 24 which means she has been there for almost his entire professional career. And she could actually be a source of his creativity as writer right.
Online you can find a Holly Rice, native from Texas, who is an editor, director and producer but is not to be mistaken with Gilligan's lady. Although they share the same name, producer Holly is much more younger than our Holly Rice.
Holly's man has been passionate about films ever since his childhood friend's mother would lend Super 8 film cameras to him. His interest grew and led him to win first prize for his age group in a film competition at the University of Virginia. Rice's talented boyfriend was demonstrated once again when he became a writer and producer for the notorious franchise of The X-Files.
But recently he has been acclaimed for his job on "Breaking Bad" as creator, writer, director and producer of the hit AMC drama series all through its five seasons.
And now that its over, he is getting ready for its next project, a CBS series called "Battle Creek." Think Holly's man will reach his previous work success? Think the couple would ever get married?
He is very good at creating and writing finales, maybe he should think of "writing his own?"