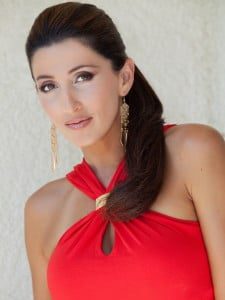 Jaclyn Stapp's singer husband Scott Stapp the amazing and hot leading man of Creed went thru a difficult time, his battle with addiction put a stop to his career but Jaclyn stood by her man and now, he is ready for his comeback to music, and God. But wouldn't you just love to hear about his stunning wife? Read Jaclyn Stapp's biography below
Jaclyn Nesheiwat was born on July 29 in Carmel New York. She is one of five children, and  is of Arabian descent. The family moved to Umantilla, Florida which is where she grew up. After graduating from Umantilla high school in 1998, she attended Stetson University and got her BA degree in Marketing and Communications in 2002. In 2004 she was crowned Miss New York.
While she was Miss New York, she met Scott Stapp at a charity event. Scott had been married before to Hillaree Burns for sixteen months and had a child with her, Jagger. He and Jaclyn married on February 11, 2006 at Viscaya Gardens in Florida. Their daughter, Milan Hayat Stapp, was born on January 4, 2007. In May of that same year, Scott threw a bottle of Orangina at her and he was charged with assault. He publicly apologized to her, and the charge was later dropped.
On July 4,2010, Jaclyn and Scott  welcomed their second child Daniel Issam, and they are currently living in Boca Raton, Florida.
As a child in school, she was teased and bully for her skinny frame and unruly hair. Today the beautiful Jackie is the national antibullying spokesperson for National Voices for Equality, Education and Enlightenment (NVEEE). She is also involved with other causes and charities, and is a motivational speaker and image consultant. And she still finds time to be an award winning author of books for children!
It seems that Jaclyn can do it all, author, beauty queen, wife, mother. She really is a good role model for today's youth.