Meet Mr. "It's not the years in your life, It's the life in your years…" Jared Lowenstein Pobre. He is the hunky and wealthy new boyfriend of 33-year-old blond bombshell Stacy Keibler! She and Hollywood heartthrob George Clooney parted ways back in July; so let me heard the words NEXT! And may we say she is not doing too bad!
Apparently they are not super serious but are getting to know each other very closely, they were introduced by friends and are currently dating.
Products Mentioned On This Article
In fact her new man is not "pobre" at all! Which means poor in Spanish! Jared 38, is a tech entrepreneur and currently the CEO of Future Ads a company that works in online advertising, app distribution and gaming monetization. He founded his company, Future Ads, with get this, a $500 investment in 2001. Today, it is one of the fastest-growing interactive firms in the nation, and it pulled in some $50 million in revenue in 2009, landing it on the 2009 Inc. 500 list of fastest-growing companies.
The savvy and highly intellectual Jared identified the power and potential of online casual gaming when most still thought it was a niche, "novelty" space to invest in.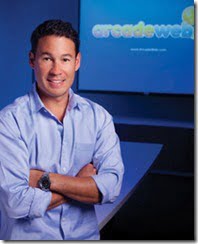 So what's the dirt on him? An Orange County native, Pobre is the entrepreneur behind the casual gaming Web sites Gamevance and PlaySushi. Between his pro achievements we can mention Ernst and Young's Entrepreneur of the Year Award for Technology, the 2009 American Business Award (STEVIE) for the Fasted Growing Company, and Deloitte and Touche's Tech Evolution Award.
Before founding Future Ads, he served as Senior Media Buyer at Internet car-buying first-mover, Autobytel.com, and prior to that was Director of Business Development for Local.com, the local search pioneer.
The former fireman wannabe received a B.S. in Business Administration and Finance from the Marshall School of Business at the University of Southern California back in 1999.
He loves Boating in Mexico but most recently he is loving going to the city of love with his new lady, Stacy! They're currently enjoying a romantic getaway in Paris together for Paris Fashion Week and Stacy was kind enough to share the picture above, showing how they are having a lovely time. He is also related to Gladys Lowenstein, Audrey Pobre and Annabelle Pobre.
Hot couple huh!
You can find him on Instagram here.