Photos have recently appeared online implying that new 'It' boy of Hollywood, Benedict Cumberbatch may be dating Russian model Katia Elizarova. The 37-year-old English actor who's brilliant portrayal of Sherlock has landed him several blockbusters was spotted cozying up with the gorgeous model. He officiated a wedding for two gay friends in Ibiza and was spotted with Elizarova, 27.
When asked about it, Elizarova said
It was a wedding, you know, everyone was jolly and happy and, you know, things happen…' she told the Times.
Products Mentioned On This Article
Does that mean they are dating? Things happened that's for sure! Now magazine reported that Elizarova is "believed to be his girlfriend" and that the two were seen "smooching" and "cozying up."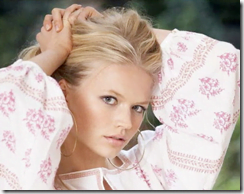 Celebrated for her natural golden hair and enchantingly vivacious nature Katia was born August 17, 1986 in Saratov, Soviet Union. She has a younger sister named Alisa who is 22-years-old.
Katia E, was discovered at age 14 in her hometown like many models she started traveling and learned that with the glamour comes a whole lot of responsibilities. She has modeled for Chanel and Versace and replaced Lily Cole as the face of designer fashion label Max Studio.
Katia who arrived in London 10 years ago, lives in Chelsea and took a law degree at St Mary's University, recently starred in Sunstroke, a play based on short stories by Anton Chekhov and his close friend Ivan Bunin; and said she would love to make acting her career. The model and actress has also dabbed into reality T.V; she is currently starring in Fox TV reality show Meet The Russians.
We might see her acting soon with her new beau, Benedict! Who knows "things happen." She seems to have had enough with fashion's unpleasant underbelly, although she is still modeling in 2009 she addressed the Oxford Union on the world of modeling, it's pitfalls, rewards and in particular health issues, joining world renowned figures of contemporary society who have the spoken to the Union over the years.
She says:
'I knew girls who were bulimic, who used cocaine to make their cheeks hollow,' 'Some girls pulled out their teeth to look thinner.
Her career so far has included working with: Ellen Von Unwerth, Rankin, Kim Knott, Commes des Garcons, Guy Laroche, Kirin, Laforet, Calvin Klein, Chanel, Valentino, Versace and many more as well as various television campaigns and music videos but outside of modeling Katia E is a firm believer in establishing rights for those working in the fashion industry.
A girl to watch out for sure. She is featured in an article titled "Hungry girls and perving men" explaining what she saw and her own experiences in the industry.