Luciana Barroso
Luciana Barroso is the stunning Hollywood wife of actor Matt Damon. The pair has been together for years and seem to be going strong.
Barroso and Damon certainly make for one of Hollywood's hottest couples and one of the industry's longest marriages.
Her man isn't only one of Hollywood's biggest and talented stars, he also remains faithful to her, well at least off camera where it really counts. By now, you probably know everything there is to know about Damon who's been in at least one of your top-ten favorite movie list. That's why instead, you'll find below seven interesting facts about Matt Damon's hot wife.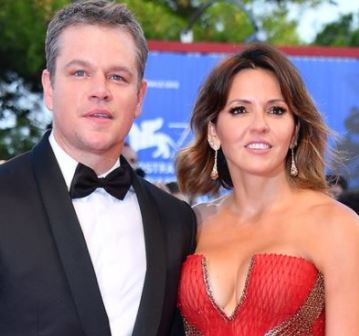 #1 She is not American
Luciana Bozán was born in Salta, Argentina in 1976.
#2 She was previously married
Before Damon, Luciana Barroso was married to Arbello Barroso. From that relationship she gave birth to daughter Alexia Barroso –born in 1998.
According to reports, the couple officially ended their marriage in December 2004, or shortly before Barroso met Damon.
#3 She met Matt Damon at a bar
Luciana then a bartender at a Miami bar, met Damon while he was in Miami filming the 2002 movie, "Stuck on You" Matt said during an interview about meeting her "I had never really hung out in Miami. One night in the middle of the shoot, the crew, a couple guys, said, 'We're going to get a beer somewhere'—[They] kind of dragged me along." "I literally saw her across a crowded room, literally"
#4 They didn't have a fancy wedding
Following their September 2005 engagement, Luciana Barroso and Matt opted for a small and private civil ceremony on December 9, 2005, at the Manhattan Marriage Bureau.
#5 She has three children with Damon
Following their nuptials, Luciana has given birth to three daughters Isabella born in June 2006. Daughter Gia Zavala born in August 2008 and Stella Zavala born in October 2010.
#6 She stays out of the spotlight
While she doesn't give interviews, Barroso has been seen accompanying her man during red carpet events.
In facts, Luciana Barroso has become a bit of an expert at keeping her family life out of the camera. The brunette beauty enjoys a quiet life, vacationing all over the world alongside her man and children, however she has managed to lay low in Hollywood.
#7 She got her big party after all
According to E! News, the couple made a pact after getting married to have a "big celebration down the road." That they did in April, 2013, when they renewed their vows during a reported $600,000 ceremony in Saint Lucia.