Meet Mario Singer, he was born in 1954, his hometown is Manhasset, NY; the son of Mr. and Mrs. Ernest Singer. The good looking man with Italian roots is married to gorgeous Ramona Singer and is the father to the couple's only daughter, Avery Singer. Mario has been married to Ramona known as a member of Bravo reality series The Real Housewives of New York City, Ramona Singer has established herself as business savvy entrepreneur and media personality.
According to their 1992 New York Times Wedding Announcement he is the VP at Classic Medallics and Frederick Singer & Sons.
Mario who manufactures religious articles and trophies has a hands on woman for a partner! His wife graduated from the Fashion Institute of Technology in New York City. She created the company RMS Fashions, Inc., which buys items from wholesalers and sells them to discount retailers. More recently, she developed True Renewal skin care, True Faith Jewelry, Ramona Singer Collections on Amazon and Ramona Singer Jewelry for HSN, that you can take a look here. On T.V, Ramona is known as the wide-eyed, energetic woman who always says what she thinks.
Mario comes from a long line of jewelers. He also helped Ramona start her True Faith jewelry line.
Mario, who married Ramona when he was 38, was previously married to another woman, but that union ended in divorce. But that is old history he and Ramona have been happily married for the past 21 years.
Mario and Ramona whom have always been portrayed as a strong and madly in love couple during their five seasons at the show might be facing some issues right now. The 59-year-old is being accused of having an affair with a society girl and getting her pregnant.
Over the last few months, Ramona's been feeling nostalgic and sharing throwback photos of her family-like the one below-could this be a sing of something else going on with the couple? Problems in paradise?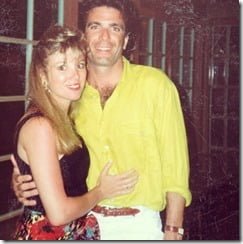 Mario's wife has said before how lucky she is to have him, she has expressed they truly are best friends and confidants and how blessed she feels of  his unconditional support. So far Ramona's hasn't said anything on twitter about the alleged accusations on her hubby.
He's an avid blogger and keeps a blog on BravoTV.com although it's been a while since his last entry.
What do you think, is Mario really having an affair?