Meet gorgeous Michele Fitzgerald
Michele Fitzgerald is currently a contestant on survivor Kaoh Rong. The New Jersey native is a member of the Beauty tribe on Survivor Kaôh Rōng – Brawn vs Brains vs Beauty 2.
The pretty 25-year-old keeps busy working as a Travel Consultant for Liberty Travel based in Woodbridge, New Jersey. But Michele Fitzgerald is a woman of many talents, and can also toss a mean drink, according to her ABC bio, that says she is a bartender. Michele Fitzgerald had to quit her travel agent job to go on Survivor.
Michele has two siblings, a brother, Joe and sister, Kim. Fitzgerald, who currently lives in Freehold, New Jersey, graduated from Montclair State University with a degree in Communication and Media Studies in 2013. According to her LinkedIn, she was an Education and Outreach Intern for Rock The Earth, where she advocated a sustainable and healthy environment to musicians and fans at music events across the US. She enjoys travelling and is a huge Harry Potter fan.
If she could take three things to the Island, her chosen items would be: her journal, a Harry Potter book for a little entertainment, and her sister. The quirky, charismatic and adventurous Michele Fitzgerald revealed her reason for being on Survivor is because she wants to get herself out of the comfort zone but ultimately she is in it for the money, desperately trying to replace her car, haven't we all been there?
So what's sexy Michele's secret weapon to win: Her charm and positivity. "I wouldn't let anything dampen my spirit. Enthusiasm is electric, and that attitude would shape the tone around camp. I may be a Jersey girl, but don't let that fool you. I have no problem roughin' it."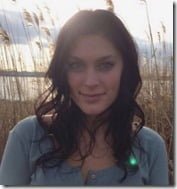 Michelle is a pretty hot gal something obvious to the human eye, but what makes her even hotter, is that she genuinely seems a happy, confident woman who seems totally down to earth and guys love that in a chick. She is very active on social media and this girl looks like she knows how to have a good time. She often posts photos of her and her girlfriends hanging out, or simply showing that smile of hers.
But just in case you are not a believer take a look by yourself at her pictures below!
Also find her on Instagram here.