Nicole Threatt has been the wife of Andre Young aka Dr. Dre for 17 blissful years! Her man is known worldwide as a record producer, rapper, entrepreneur, and actor. He is also the mastermind behind super-rappers Snoop Dog , Eminem and 50 Cent.
On the other hand Mrs Young or Mrs Dre if you like, keeps a very private life. The couple tied the knot in 1996, prior to being the rapper's wife, Nicole Threatt was married to NBA player Sedale Threatt. Nicole and Dre have two children a son "Truth" born in 1997 and a daughter "Truly" born in 2001. The blissful couple has been spotted a number of times spending vacations at the paradise Hawaii islands, with their children.
Products Mentioned On This Article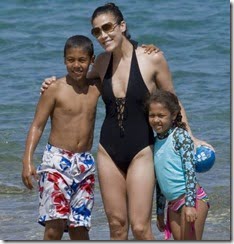 They live a pretty lavish lifestyle, spending some $15.4 million on a nearly 10,000 square foot contemporary residence prominently sited on a gated promontory near the tippy-top of the so-called Bird Street's nabe high above L.A.'s perennially chic Sunset Strip, and that is not all; they own more then one property of course. Missus Dre's idea was to custom build one super-sized mansion that caters to their every lifestyle whim and desire. The Young's have five children between them, two together and three from Dr. Dre's previous relationships.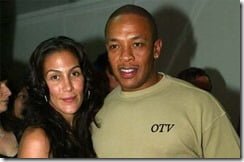 Nicole who was born Jan 1st, 1970 is an attorney but let's just say not a "practicing" one has been described more of housewife and socialite, and who could blame her huh! We know her hubby's career has been a hit after hit and in 1996 her man left Death Row to establish his own label,Aftermath Entertainment. He produced a compilation album titled Dr. Dre Presents the Aftermath in 1996, and released a solo album titled 2001 in 1999, for which he won the Grammy producer's award. But what is success if you don't have someone special to share it with? Captivated by Nicole, Dr. Dre was on full pursuit to make her his wife, who at the time was married to LA Laker's starting point guard, he wrote a letter letting her know how much he wanted her. This, before the time of Facebook, Twitter, text message, popularity of cellphones and email. The infamous letter can be looked up online and here you have it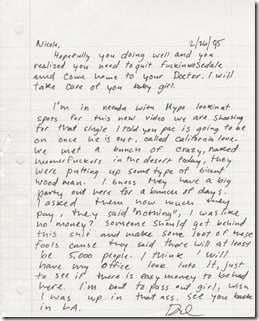 The letter dated February 26, 1995 was handwritten by the rapper who stated:
Nicole,

Hopefully you doing well and you realized you need to quit fucking with Sedale and come home to your doctor. I will take care of you baby girl
While some reading this might be thinking Dr. Dre was the cause of the Threatts' divorce in their 3-year marriage, Nicole was in the middle of a divorce at the time the letter was written, reports say and the rest is history.
Although it would seem that Nicole and her 'Mr. Beats' are proof that after 17 years, there is no such thing as love fizzling and that, their love for one another is just as passionate as it was when they first met; we really wish we could tell you this is all true but TMZ reports say the couple's long time union might be in jeopardy! Think Dr Dre would cheat on his beautiful, long-time wife?