Meet Rachel Lindsay –who has been casted in the upcoming season 21 of The Bachelor.
Lindsay is in for a treat as she will be trying to make hunky and bearded fella, Nick Viall fall for her. According to sites,  gorgeous Rachel will be making his mark on the show as we will see her become, one of Nick's favorite chicks on the show.
Keep reading about Rachel Lindsay on her top ten facts below!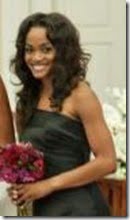 1. 31-year-old Rachel Lindsay hails from Dallas.
2. She obtained her law degree from Marquette University Law School.
3. She is a 2003 graduate from First Baptist Academy in Dallas.
4. She also holds a bachelor's in kinesiology and sports management from The University of Texas.
5. She is currently an attorney at Cooper and Scully C.P.
6. Accoridng to spoilers, she will be the one to get the first impression rose.
7. A photo of her and Nick kissing has been swirling around.
8. She became the first black woman in the show's history to get the first rose of the season
9. She is affiliated to the American Bar Association and the Dallas Bar Association – Sports & Entertainment Section.
10. She is active on social media.
Think Rachel Lindsay could be the one for Nick Viall?
Check her out on Facebook here.