Meet Robin Dearden, she is the lovely wife of Bryan Cranston the amazing actor who portrays  Walter White in the AMC drama Breaking Bad, who has won an Emmy for lead actor in a drama series three years in a row.
Mr. Cranston has been married twice, first in 1977 to Mickey Middleton, their marriage lasted until 1982 and seven years later he tied the knot to0 his second wife Robin Dearden.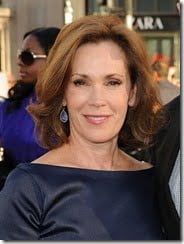 59-year-old Robin Dearden was born  on December 4th 1953 in Los Angeles, California. She has starred in hundred of television series and films, such as:
The Krofft Supershow in 1977, Family, Bigfoot and Wildboy and B.J and the Bear in 1979, To race the Wind, Trouble in High Timber Country, Fugitive Family and Asphalt Cowboy in 1981, Love Sidney, Magnum P.I, Matt Houston, The A-Team in 1983, Masquerade, Earthlings in 1984.
In 1985 you probably saw Robin as Libby Hall in Highway to Heaven, and as Liberty Cox in Kight Rider and as Alicia in Airwolf where she met her husband. 1998 Thirst (TV Movie), The Big Turnaround, The Big Sleep Nine to Five in 1988, The Committee, The Taxman Cometh, Murder , She Wrote in 1991, Thirsty in 1998, Last Chance in 1999, Grounded for Life in 2005, Breaking Bad in 2010
In the big screen, you've seen Robin Dearden as Kate Harper in the 2001 film Wooly Boys, as Julia in the 2004 movie Myron's Movie and this year you will see her as Diana flare in Chianery.
The love story between Robin and Bryan started in 1984 when  she portrayed a hostage held by the bad guy portrayed by Cransto in Airwolf, the couple got married in 1989, their beautiful daughter Taylor Cranston was born on February 12, 1993.