Meet the gorgeous actress girlfriend of The Hobbit actor Aidan Turner, she is Miss Sarah Greene. Her 30-year old boyfriend plays Kíli-the dwarf from-the three-part fantasy film The Hobbit. The Irish actress hasn't been in the industry for long but her work was praised right away. Her first film was Eden in 2008 and her second film was the Canadian movie Love & Savagery in 2009.
Sarah Greene is one of the actresses who will be playing Christina Noble (at a specific period in her life from age 16-23 according to the movie' site) for the film, "Noble"! The movie is currently being filmed but only has distribution in the UK. Sarah trained at the Gaiety School of Acting and immediately found success on the Dublin stage. Most recently she won acclaim in a sold-out run at the Abbey National Theatre of Ireland playing the title role in ALICE IN FUNDERLAND. Sarah described how she was "overcome" when meeting Christina Noble-the Dubliner who overcame an impoverished childhood, to help street children in Vietnam and Mongolia- face to face.
"I was holding her hands for about two seconds, when I started crying. It was just an aura about her.
Sarah also played the lead in her first feature film LOVE AND SAVAGERY before appearing in the 2011 box office hit THE GUARD.
Greene also has credits on T.V. including the 2006 T.V. movie "Bachelors Walk Christmas Special;" the 2009 T.V. series "Psych Ward" and the 2010 T.V. series "Raw"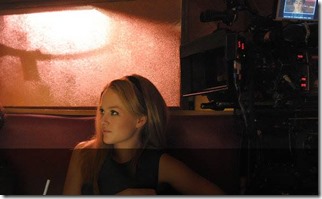 She and actor Daniel Radcliffe, were snapped together as the two celebrated the press night of their West End play "The Cripple Of Inishmaan" this summer.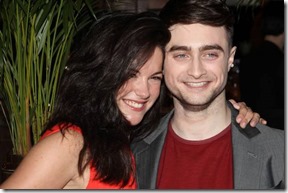 Sarah and her hunky boyfriend were linked together earlier this year; they were spotted on March 25 at the press night performance of 'Peter And Alice' at the Noel Coward Theatre in London. He's photographed solo but at first but the second photo is of him and Sarah. The couple live together in London.
Sarah is originally from Cork but came to Dublin where she graduated from the Gaiety School of Acting in 2006. She played Ismene in Rough Magic's production of PHAEDRA by Hilary Fannin, directed by Lynne Parker as part of the Dublin Theatre Festival last year. Sarah appeared as Amber in Guna Nua's award winning and highly acclaimed production of LITTLE GEM which won the Carol Tambor Best of Edinburgh Award at the Edinburgh Fringe Festival and led to a remounting of the production in New York early last year as well as tours across the UK and Ireland.
Sarah is represented in the UK by Dallas Smith and Ross Ferguson at United Agents, were you can see a full list of her film, television and stage credits.
Find the gorgeous Cork woman on twitter here.