We all know the hot wife of rapper Antwaun "Big Boi" Patton, Sherlita Patton. The couple has been together for over a decade and have two children ages 18 and 12. They tied the knot in February 2002, and the two are currently separated! We don't know when or how their issues became "irretrievably broken" but that is what the wife or soon to be ex-wife is saying.
According to the filing Sherlita Patton claims that the marriage is "irretrievably broken," and is seeking alimony, an equitable division of marital property and attorney's fees as well as sole custody of the younger child and corresponding child support. Her husband is father to a third son, named Bamboo from the rapper's previous relationship.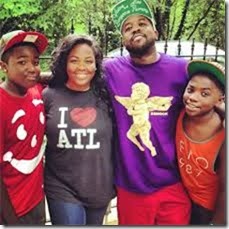 She is only mother to first born daughter, Jordan and son, Cross. It was known Sherlita's hubby had no problem showing her around giving her bombshell looks.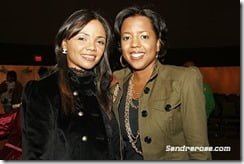 Sherlita's entrepreneurial skills and obvious taste for fashion led her to co-found a clothing store in Atlanta. Sherlita along with Travy Velentine (pictured above) co-owned  The boutique called P. Valentine which rapidly became a fashion hot-spot for celebrities such as Keisha Knight-Pulliam, Kim Porter, Usher and Outkast. Sherlita's place offered Atlanta natives the latest in contemporary urban wear, funky accessories and a myriad of high-end denim brands. While you're there take advantage of services such as their personal shopper, wardrobe consultation and image enhancement. Unfortunately it seems the place closed its doors a few years ago. Her store was featured on an episode of MTV's My Super Sweet 16.
With her fine appearance and great fashion sense, think she will stay single for long? The couple obviously shared many great memories together over the course of their eleven-year-marriage, she was seen as a supportive wife and busy mom and running a business on top of that, let's just say its hard.
Do you think, is there any chance they can fix things up?