The great Anthony Hopkins reunited with his Thor co-stars for the premiere of the second film of Thor: The Dark World, by Sir Anthony Hopkins was his beautiful wife Stella Arroyave.
Wales born Anthony Hopkins, 75 has been married three times, first with Petronella Barker (1966-1972) Mrs. Barker is the daughter of comedy actor Eric Barker and his wife the actress Pearl Barker and she also is the  mother of Mr. Hopkins' only daughter Abigail Hopkins born on August 20, 1968.
Products Mentioned On This Article
In 1973 he got married to Jennifer Lynton, they had no children together during their 29-year-marriage.
After their divorce in 2002, Sir Anthony felt into depression, although he said he felt happy, he had shut down from the world,  meeting the love of his life was the least thing that crossed his mind, but also the best thing that happened to him.
"She met me ten years ago when I was shut down. Shut down for some years. I didn't feel shut down at that time. I felt I was quite happy. But I was dealing with slight depression. Not trusting anyone. Certainly not trusting women.

"Everyday she wakes up happy. She's very positive about everything. I learnt from her just to take life as it comes. So I live my life in non -expectation."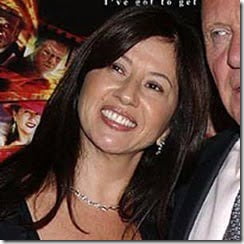 57-year-old Stella Arroyave was born on on March 20, 1956 in Popayan, in Cauca, Colombia, Mrs. Arroyave graduated in 1976 from Newtown High School in Elmhurst, NY. She was an art dealer when she met her famous husband in 2002 when he walked inside her art shop Om Furniture And Decorative in Pacific Palisades.
Stella and Anthony Hopkins got married on March 1, 2003 in Malibu, California, from that day people began to call her Stella Hopkins.
In 2003 Stella Arroyave made her acting debut in Robert Benton's film The Human Stain starring her husband, Nicole Kidman  and Ed Harris, in 2010 she starred as Gina in Slipstream, the film that her husband wrote, directed and that Stella produced.