Meet fifty's newest girl, she is a model known as Tatted Up Holly. Apparently her man, 50 Cent has closed the door on his relationship with ex-girlfriend (and possibly child's mother) Daphne Joy, just a couple od days ago the Grammy awards winner pleaded not contest to a single count of misdemeanor vandalism where he was accused of kicking Joy and destroying a piece of furniture, chandelier and television.
The 38-year-old rapper has moved on with yet another model chick! Stepping out with her at a movie premiere last month, Fifty showed off his new girlfriend Steph, better known as Tatted Up Holly.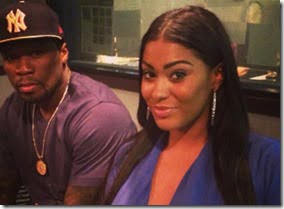 The girl is dangerously voluptuous and sensual, Page Six reports she has a figure "that makes Kim Kardashian look less than curvy." Tatted Up Holly, aka Steph is an upcoming Puerto Rican model from the Bronx, New York, but before she made it big with her latest VIP company she had been working on the bottle waitressing and bartending scene, and quickly made a name for herself because of her amazing body. Her measurements are a stunning 38-24-45.
An article from the Hip Hop News Spot says Holly has been featured in rapper Fat Joe's music video "Ballin," featuring Wiz Khalifa and Teyana Taylor. She also has done a July 4th, 2013 photo shoot for Dynastyseries.com. Catching Fif's attention, he hired her and her "Dream Team" to host his birthday party this summer and have been madly in love ever since!
During a DJ booth session she revealed she get her amazing curves from her Puerto Rican mother and also that lost count on how many tattoos she has! Hear for yourself below about her stripping club days and modeling, flirting with women and more!
The 33-year-old has been spotted around different events with Curtis "50 Cent" Jackson, she has also done hosting work in Atlanta and New York.
She got herself a tattoo on her left arm after she lost a baby when she was six-months pregnant at 18-years-old.
The curvaceous lady and fifty are reportedly getting serious as they were seen at his recent VIP Room party where they hugged all night!
Follow Holly on twitter here and find her on Instagram here.