Rachel Snider
Rachel Snider is the lovely lady who was briefly married to former NFL star, Terrell Owens. The two separated after only days of being hitched back in 2014.
Rachel's 6-time pro bowl wide receiver, who was a member of the San Francisco 49ers, Philadelphia Eagles and Dallas Cowboys –is credited with being one of the most exciting and electrifying players to ever play the game, with 1078 Receptions, 15,935 yards, and 153 touchdowns during the span of his 15 year career.
His competitive spirit will once again be put to the test as he's been casted in the upcoming season of DWTS.
Owens will be dancing the night away with pro Cheryl Burke. Will Snider be rooting for him? We guess not, but still this could mean we finally get to see who his new chick is.  The 43-year-old father of four (Atlin, Kylee, Dasha and Terique) –could be dating anybody at the moment, however he's keeping it under the radar.
In the meanwhile, let's take a trip down to memory lane and remember the days he and Snider were happy.
The former Eagles player was married to Rachel Snider, a postal worker from Texas, on January 23, 2014. The two walked the isle following a brief romance.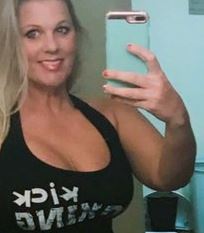 TMZ reported that the ex-Eagles receiver filed for divorce around Valentine's Day 2014! There's nothing more romantic than being served on Valentine's Day, right?
But it seemed both parties couldn't wait to get rid of each other. Rachel Snider claimed that Owens only married her for her money, due to his financial issues at the time, but neither of them received spousal support. According to her, Owens (who almost went to prison for not paying child support) used her money to receive a $2.0 million loan for a home in Sherman Oaks, California!
The former couple also had a nasty blow out on Twitter about Owens appearing on an episode of Celebrity Wife Swap –while still legally married to Snider.
Sexy Rachel is also a fitness fanatic, she keeps her fantastic figure in shape with the help of a personal trainer. Snider who has a child of her own, was supportive of Terrell during their relationship. She tweeted images of his commercials adding sweet messages.
Getting back to present times, it appears blonde Rachel Snider has left all the beef in the past. She recently tweeted a photo of Owens saying he is a good dancer –referring to his recent DWTS gig.
You can check her out on Twitter here.