Meet Theodore Simon Wenner, he is a 26-year-old photographer and Theo Wenner as he is commonly known is rock royalty in his own special way! His father is Rolling Stone magazine founder Jann Wenner. Theo is also known for his relationship with actress Liv Tyler in 2011. At the time it was reported:
Tyler is dating photographer Theo Wenner. The 33-year-old actress started romancing 24-year-old Theo — son of Rolling Stone publisher Jann Wenner — earlier this year and friends say they are smitten with each other. "He's really young, but they've been dating for a while …
Theo is a celebrity photographer who has shot Ke$ha, MGMT, and Corinne Bailey Rae for Rolling Stone. He's good, but something smells like dad helped him get in the door. Theo started interning in the photo department at RS in 2006 and in 2008, shot Robert Pattinson for the Hot List issue. He's been working steadily ever since. He's shot for Vanity Fair, Vogue Hommes and Jalouse and did Opening Ceremony's lookbook. Theo snapped photos of Liv for the 2011 spring/summer issue of French fashion magazine, Purple.  Theo spends his time mostly behind and in front of the camera; since he did a little modeling too. He was a model for Hogan's fall print campaign a few years ago.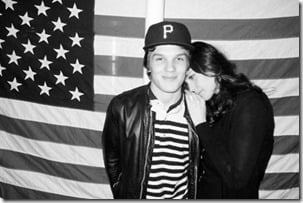 About his photography it's been said:
"He displays confidence, style and a great knowledge and appreciation of photography in all its forms."
Theo's recent work includes snapping Miss Cyrus for her provocative Rolling Stone cover, could this be how they met?
Wenner must be getting tired of being usually described as the son of Rolling Stone founder Jann Wenner firstly, and a photographer secondly but apparently now he can add a third one "Miley Cyrus new guy." Truth be told his work is pretty cool, you can browse around his romantic images and see for yourself here, a little help from dad never hurt anyone but we think Wenner backs it all up with talent. And about his romantic status it also seems to be doing pretty good.
After some text exchange during the weekend it's been reported, newly single Cyrus and Theo met at wee hours after her gig at SNL.
Although his father and mother, Jane Wenner separated 18 years ago, his mom remains a vice president of Wenner Media. The former couple had three children; Theo being the middle child has one older brother Alexander Jann; and one younger brother, Edward Augustus.
So what do you think of the new couple?
Find more of his work here.