Can you believe it? Owen Wilson is going to be a father again, and his baby mama is married!!
Some sources are saying that he and Caroline Lindqvist met in 2003, a year before she married plastic surgeon Ritu Chopra, but that they stayed close.  Others say that Owen met Caroline met in 2007 after he and Kate Hudson broke up and his suicide attempt. He hired her as his personal trainer. Yeah, right.
Whatever, in May of this year she found out she was pregnant—small problem here as she has been separated from her husband for over a year. When she confirmed that Owen was the father, she broke the news to him.  Shortly after, she filed for divorce.
Caroline Lindqvist's Biography.-
41 year old Caroline Lindqvist was born in Sweden in January of 1972. About fifteen years ago she moved to Malibu, where she fell in love with the healthy lifestyle there. After she married, in 2004, she and her husband moved to New York. But they missed the great California weather and were back to Malibu two years later. Besides being a personal trainer, Caroline, 41 and NOT 42, has been a real estate agent with Pritchett Rapf Realtors since 2008.
Some of the celeb who trained with Caroline Lindqvist include Leslie Mann, Anna Kournikova, Jason Schwartzma, and certainly Owen Wilson. Caroline devoted 20 years of her life to fitness training..
"I have been a professional fitness trainer for the past 20 years. In my personal life it has helped me relax and battle insomnia. In my professional life, I have introduced it to a few of my clients with shoulder- and/or back problems, and it has helped them tremendously. I also have my clients with high stress jobs use it for meditation. I can't say enough good things about the bed of nails. Everyone should just get one and try it out for themselves!"
We've heard that Caroline and Owen are together now, but that Owen has no intention of settling down with his leggy ballerina girlfriend permanently. Fatherhood does not seem to make Owen a committed to his partner person, although he intends to be involved in his child's life. He split from his first baby mama, Jade Duell, five months after their son was born.
Poor Caroline! It's been reported that she is really hurting about this. Who knows, maybe Owen will change his mind, but then again maybe he won't. Whatever happens, the baby is due in January, the same month in which she will be celebrating her 42nd birthday. Hope Owen doesn't break her heart.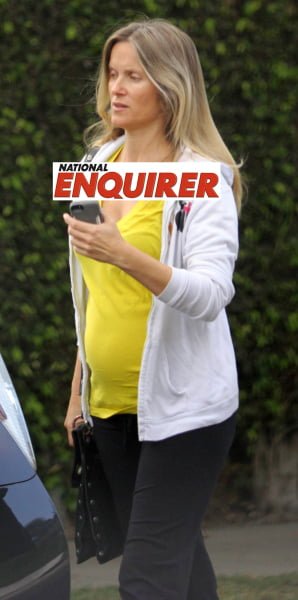 Check Caroline Lindqvist's Linkedin profile here