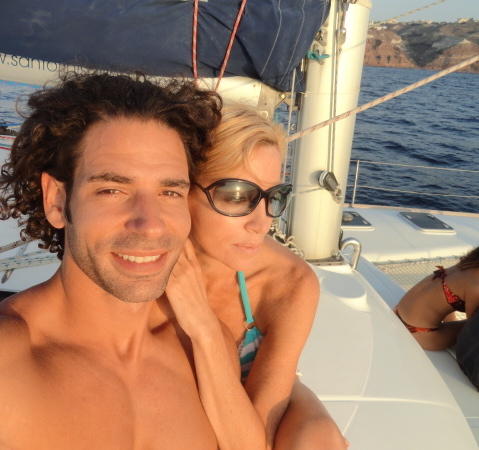 Dimitri George Charalambopoulos was born in Texas on January 1, 1976. Dimitri, who is based in Dallas  got his law degree from the Southern Methodist University. He is a bankruptcy attorney,and  has a 10-year-old son, Marcus, with his ex Lisa Chynoweth.The Greek lawyer was introduced to Camille, ex-wife of Kelsey Grammer through mutual friends, right after a psychic at Kyle Richard's seance in Season 2 of Real Housewives of Beverley Hills told Camille that a "hunk-a-hunk of burning love" would enter her life.
For a few years everything was great. According to friends the chemistry was there. They looked like a really solid couple. In fact, Camille was helping him gain custody of his son. He lived in Texas and would visit her every other weekend, which was working out perfectly, or so Camille said in December of last year. They had been dating then for little more over a year.
In August of this year, they took a trip to Santorini, Greece, a romantic holiday where they looked like a couple in love, even with the nine year age difference. (See the picture above)
What a difference a few months make! Today it was learned that Camille would be filing charges of assault against her now former boyfriend. In the police report she will allege that he struck her in a Houston hotel room just four days after she had surgery for endometrial cancer. We have heard that things had been bad for them for a while.Camille wants to recover fully from her operation so that she can really open up about it all.
You may not be a fan of her show, you may not be a fan of hers, but if all this is true, you've got to agree that Dimitri is a lowlife. Here's hoping that Camille's recovery is quick. Get well soon, Camille.