I'm sure you've heard fast rapper George Watsky before, but have you seen him attempt a 30ft stage dive into the crowd?? Yikes!
Products Mentioned On This Article
The 27-year-old rapper, writer and performer from San Francisco now living in Los Angeles was performing at Alexandra Palace for the Vans Warped Tour when he jumped 30ft from the rig into the audience. The crowd reportedly parted in an attempt to avoid impact but Watsky ended up breaking one girl's wrist with another man hospitalized.
Watsky escaped with minor injuries telling fans he was 'fine'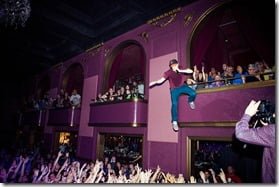 Watsky who graduated from Emerson College with a B.A. in "Writing and Acting for the Screen and Stage" was born with a twin brother he came into prominence in 2006 when he was the Youth Speaks Grand Slam Poetry Champion, and was also named Brave New Voices International Poetry Slam Champion.
The remorseful musician wrote on Facebook
The jump was not awesome, it was not badass, and it was not ballsy. It turned what should have been a great day for the people who got hurt into a nightmare. It was stupid and wildly irresponsible, plain and simple.
I have no excuse for my actions, and the only way I can explain my mindset is that it was a huge overreach in the heat of the moment. No, I was not drunk or on drugs.
He even goes to reveal that as a kid he was afraid to do anything physically dangerous
I was scared of the ball in little league, didn't want to jump into lakes and would never have had the nerve to crowdsurf. But in the last year of touring, I've done increasingly risky things, maybe pushing myself by some dumb sense I am conquering my early timidity.
We give him props for his coming forward, and it's a pretty darn good apology, don't you think! But is this "timidity" what keeps him from a relationship? Does he have a girlfriend? Is he married? Maybe one of those poems of him would come in handy!
He also announced he would not be cancelling any of his forthcoming tour dates.
Find him on twitter here.