Robert Patz seems to be have completely forgotten about old flame Kristen Stewart or at least he is trying to. Since the couple scandalous split after Kristen's messed up with married director Rupert Sanders the couple tried to work things out but it was just a ticking bomb waiting to go off! And it did back in May.
Products Mentioned On This Article
Since then the 27-year-old has been linked to his Dior Fragrance campaign French model Camille Rowe who's scenes together have been really hot, model and actress Riley Keough although it appears long distance was the main issue for this relationship and also photographer Caitlin Cronenberg who is the daughter of Pattison's latest movie-Maps to the Satrs- director David Cronenberg.
But a source says Pattinson spent a romantic and fun weekend with another love interest!
The insider reveals exciting details saying
"Rob and the brunette turned up around midnight. They were cute together. At one point, he was talking to someone and she wandered over and grabbed his hand and pulled him to over to near the pool. Their hands were all over each other!" "She's really sweet and girl next door vibe. Rob is actually really nice and humble. They're a perfect match!"
Over the weekend he attended Shoshana Bush's birthday party and was spotted holding hands and snuck kissing with the new mystery girl! The Saturday night birthday celeb was held at the home of film and TV producer Allan Loeb and Pattison decided this would be the time and moment to introduce his new girl.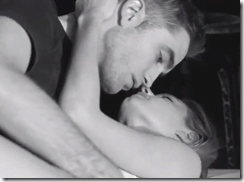 And who is the mysterious new gal? Well we would love to tell you but no name or picture of her has been released so far. Knowing how secretive and reserved the Twilight actor is it might take some time to actually meet her but if she is important enough to bring to party with his close friends he might wont take very long to post their first pictures together!
Do you think it might be someone we know? The source says she gives the girl next door vibe so she might not be from the bizz at all, maybe Pattinson wants to try something new, someone "normal" and out of the spotlight for a change; do you think his new approach will work out?
Do you want to see him in love again?
We are certainly happy for him if he and the new girl are happy.