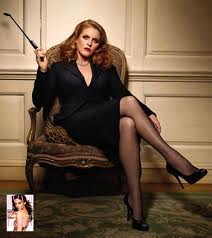 Sarah Trigger is asking for a tenfold increase in child support from ex husband Jon Cryer, even though she only has 50% custody. She wants an increase from $8000.00 to $88,000.00 a month. She's says she's afraid their son will be bullied in school for being "poor".
She and Jon got married in 1999. Their only child, Charlie Austin was born on 27 June 2000 in Los Angeles. In 2004, Sarah and Jon divorced. A judge gave him full custody of their son, because she was labeled as an unfit mother. Sarah remarried to David Dickey with whom she also had a child. It seems the judge was right for giving Jon custody as on the night of May 28, 2009, her husband (from whom she is divorced now) called police regarding an injury sustained by their 2 year old son. Police found the child with rope marks on his neck. Sarah was taken in and later released on $100,000.00 bail . She was not later convicted. Charlie was not present at the time. No mention is made of who has custody of her second child.
Sarah, who was born in London, England on June 12, 1968, moved to L.A. in 1987 and from 1989 to 1999 appeared in 16 movies, including Bill and Ted's Bogus Journey. Since her divorce, she has not had any recent job offers. All the gossip surrounding her has just about killed her chances of getting any. There have even been allegations that she was looking for a hitman to dispose of her first two husbands, but that just sounds like crazy Hollywood gossip.
Sarah's argument for the "bump" in child support is that the high end school Charlie is at have exotic vacations, posh birthday parties and Bar Mitzvahs to name a few things. It's a tough life!