Many of you remember actress Danica McKella as the innocent and cute girl Winnie Cooper in the television series The Wonder Years, the years have flown by and Danica has become a beautiful a sexy woman, she continues to act and more recently joined the new cast of Dancing With the Stars where she moved her hot body with pro dancer Valentin Chmerkovskiy with whom she has been seen getting very close, are these two secretly dating? Do you know who is  Danica McKellar´s boyfriend?
39-year-old Danica McKellar was born on January 3, 1975 in La Jolla, Cali to Mahalia and Christopher McKellar, Danica has one older sister Crystal also an actress, who graduated from Harvard Law School and Yale University, Besides Crystal, Danica has two half- brothers Connor and Chris McKellar.
Like her sister McKellar didn´t settle with her acting career, and in 1998 she received her major in Mathematics from UCLA, she has authored several math related books for teenagers, but what about her personal life, she has a child right?
Sure she does, her adorable son Draco Verta now almost 4 years old was the only child she had from her  four-year marriage to  composer  Mike Verta, they got married in 2009 and in June, 2012 she filed for divorce.
The divorce was finalized last year and they shared custody of their son, after that we didn´t see much of her until it was revealed she was among the celebrities joining the 18 season of DWTS.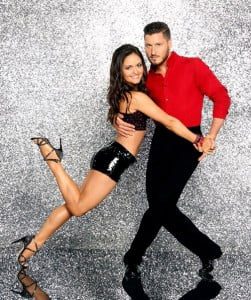 Several photos of Danica in  her athletic gear have been  the main topic of interest  among readers, who knew McKellar had those enviable abs!! she hardly looks her age I can tell you that!
Another topic of interest about Danica McKellar is her closeness to her  dancing partner Val Chmerkovskiy, but let´s cut the crap we all know celebs and their dancing partners spend several hours a day every day for several weeks together, it is more than normal they become close friends, rumors about an alleged relationship is not something we haven´t heard before either, so we won´t be wasting our time in random rumors about McKellar and Chmerkovskiy allegedly hooking up until we can have reliable photos or sources that can confirm that.
Certainly a pretty girl like Danica McKellar should have any problems finding herself a fine young man to go out on a date? I couldn´t agree more Danica is stunning  and she has zero problem finding herself a man, but she is just not looking for anyone at this moment, so hurry up guys get in line because of girl Danica is pretty much single and ready to mingle if.. you have what it takes!