Casey Daigle
Casey Daigle is the retired MLB player happily married to former USA Softball star Jennie Lynn Finch. The couple has been married for the last 13-years and together share three children.
Jennie started pitching at age eight. At age 12, she led the California Cruisers to the 12-and-under American Softball Association national title in Chattanooga, TN. In 1995, Jennie's ASA team captured the 14-and-under crown.
She won a gold medal with Team USA at the 2004 Athens Olympics. Sports Illustrated hailed them as the greatest team of all time. Four years later she won a silver medal at the 2008 Beijing Olympics.
She played softball for the USA National Team and for the Chicago Bandits. The blonde with supermodel looks announced her retirement in 2010. She now conducts camps across the country and has her very own softball academy in Flemington, NJ. Meet her hubby below.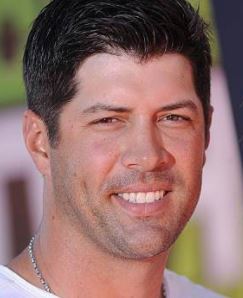 #1 The Lake Charles, Louisiana native born Sean Casey Daigle on April 4, 1981 –spent 12 years pitching with four major league clubs.
#2 He is the first to admit he will never "be able to do what she's done in her sport" referring to the star status held by his wife.
#3 According to ESPN, the couple met in 2002 while Daigle was at spring training in Tucson, Ariz. Daigle, then a 21-year-old minor leaguer trying to fit in at the Arizona Diamondbacks' big league camp, reluctantly went with outfielder Luis Gonzalez "to see this really pretty girl" pitching for the Wildcats.
#4 Married since 2005, the two are the proud parents to sons Ace Shane born in 2006, Diesel Dean born in 2009 and daughter, Paisley Faye born in 2013.
#5 Daigle, a 1999 first-round draft pick, compiled a 3-4 record in 33 games, including 10 starts, over three seasons with the Arizona Diamondbacks (2004, 2006) and Houston Astros (2010).