Corin Jamie Lee Clark
Corin Jamie Lee Clark is the stunning girlfriend of actor and musician, Jesse Metcalfe -best known from Desperate Housewives fame.
Corin and Metcalfe were revealed as a couple last month, just six months after he ended his engagement with designer, Cara Santana with whom he was in a relationship for 13-years. At the time of their split, Jesse was accused of infidelity and Santana was reportedly blindsided at his betrayal.
The pair was last seen together on Jan. 4 when they graced the red carpet of the Art of Elysium event in Los Angeles.
Accoridng to reports, new lady Corin and Metcalfe have been together for a few months and had been -quarantining together in both Los Angeles and Canada recently.
According to DailyMail.com, Jesse and Corin met at a party in May. Sources close to the new couple also added that Jesse "can't get enough" of her. And added "They feel like they've been together forever even though it's only been a few months. He's crazy about her."
Want to find out more about the gorgeous Corin Jamie Lee Clark?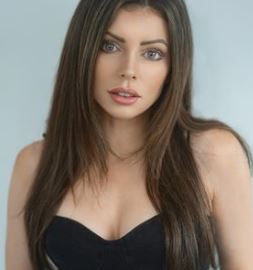 27-year-old Corin Jamie Lee Clark hails from Vacouver, Canada and her pretty face alongside her stunning figure make her solid model material. She split her time between California and Canada, where her family lives, she has one sister.
She told Skyn Magazine that she ended up modeling almost by accident. She was tapped by a well-known, talented photographer and next thing she knew she was flying to shoot in California. Since then she has gotten a lot more comfortable with the job and has appeared in many adverts and prints.
Corin who enjoys the beach, veggie dogs and classic rock -has over 180k followers on social media. Her social media is filled with posts of her looking glamorous in a range of skin-baring outfits.
The leggy gal is over a decade younger than her man, 14-years to be exact with Metcalfe being 41. However the age gap doesn't seem to bother them.
Find Corin Jamie Lee Clark on Instagram here.