Erica Michelle Levy
Erica Michelle Levy is the current wife of veteran journalist, TV host and public personality, Geraldo Rivera.
Erica's husband is widely known for his career as a TV host, political commentator and author. He has been in the scene for decades and is considered an accomplished personality.
The award-winning TV host, has enjoyed a lauded career and is still active in the industry, doing what he knows best.
Products Mentioned On This Article
Want to know more? Keep reading and learn personal details about Geraldo Rivera, Geraldo Rivera wife, his past relationships, Geraldo Rivera success, his career, his achievements, Geraldo Rivera net worth and a lot more.
Geraldo Rivera wife
Geraldo Rivera wife is the lovely, Erica Michelle Levy. Her hubby, simply known as Geraldo, has a career in journalism spanning for over four decades.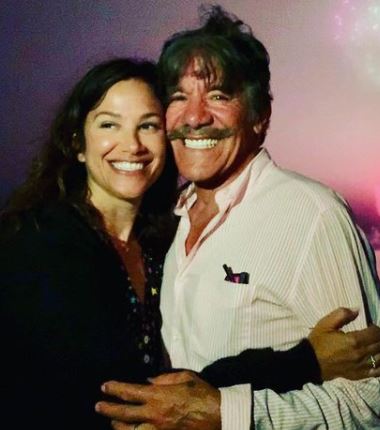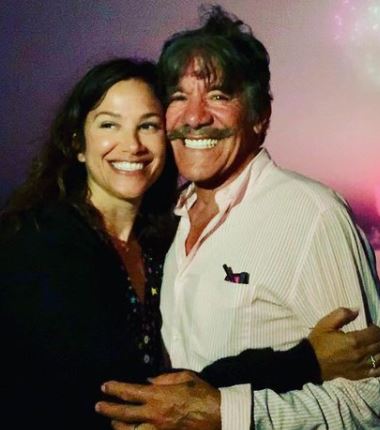 Erica Michelle Levy met Rivera met her then future husband at while working at CNBC.
Long story short, they have been husband and wife since 2003 and are still going strong.
The couple wedded in August 2003, in New York. Rabbi Peter J. Rubinstein performed the ceremony at Central Synagogue in New York. At the time she was 28 and Geraldo was 60-years-old.
Two years after their nuptials, Erica gave birth to the couple's only child, daughter Sol Liliana in 2005.
Erica Michelle Levy bio
Erica Michelle Levy is a native of Shaker Heights, Ohio. She was born January 30, 1975. She is the daughter of Howard Levy, her mother is Nancy, née Malevan. She has a brother named, Joshua, according to IMDb.
Her father died after battling prostate cancer in 2007.
Erica Michelle Levy personal life
Erica Michelle Levy a graduated from the University of Wisconsin. She graduated college from the University of Wisconsin in Madison with a bachelor's degree in communications. She advanced her journalism with a move to New York City.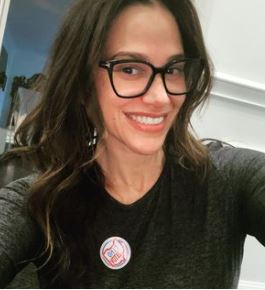 Back in 2014, Erica Michelle Levy, was involved in a car crash on the West Side Highway. Fortunately, no one was injured. Rivera however, didn't loose time and took to his Twitter account to say his wife was not the one who caused the accident but a "guy from out of state stopped short" and rear ended his wife's Range Rover. Erica was traveling with the couple's only child, daughter Sol, and other than a scare they are both fine according to Rivera's Tweet.
Another interesting personal fact, is that although her famous husband is a registered Republican, Erica Michelle Levy is reportedly a Democrat. That said, Rivera slammed the Trump administration in the past.
Geraldo Rivera wife, Erica Levy and her mother attended a rally back in 2018 in Shaker Heights to protest the separation policy.
Erica Michelle Levy age, height and weight
Geraldo Rivera wife Erica Michelle Levy is currently 46-years-old. That makes Erica Michelle Levy 32-years Geraldo's junior. Her height and weight have not been disclosed.
Where does Erica Michelle Levy live?
Erica Michelle Levy and her family have been residents of Cleveland since moving there in 2017.
Erica and her husband bought a house in Shaker Heights, a suburb of Cleveland, Ohio at the price of $2.8 million. The home was built in 1968, it measures 12784 square foot on size, it consists of six bedrooms, six full and two half bathrooms. It also features a three-stool walk-in wet bar, a swimming pool and French door-style glass sliders.
Erica Michelle Levy career
Geraldo Rivera wife Erica Michelle Levy, is perhaps best known for being married to her husband. However, she is an accomplished woman in her own right.
Erica Michelle Levy worked at NBC Universal as a producer. After that, she started working for CNBC talk show Rivera Live, until 2001.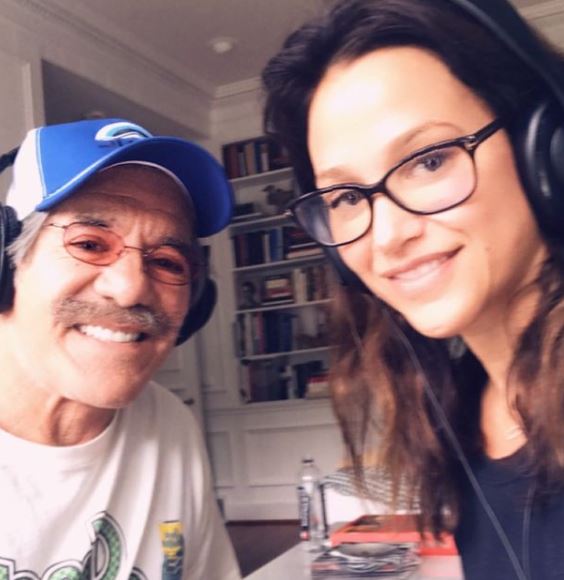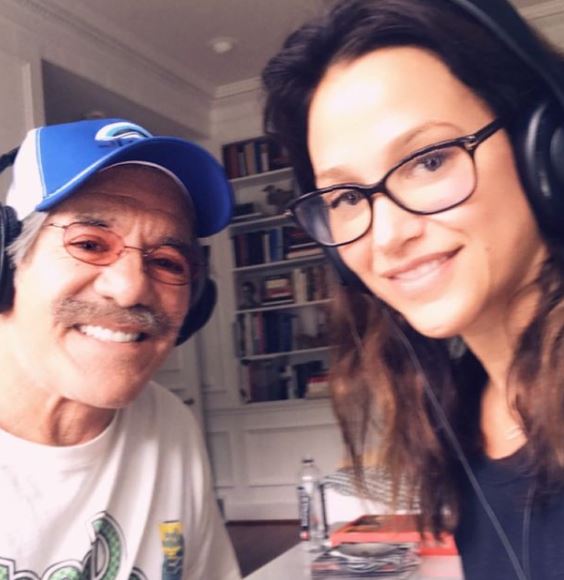 As a documentary producer she became the executive producer of Travel Channel program: "Geraldo's Voyager: From Roots to the Rain Forest." The program was created by Rivera's production company, Maravilla Productions.
Erica Michelle Levy currently serves as co-host of "Geraldo In Cleveland" @WTAM1100
and "Roadkill" podcast.
The celebrity spouse and mother of one is also close to a number of initiatives including the Anti-Defamation League, Esperanza mentor, and is stays in the Cleveland community.
Erica Michelle Levy Net Worth in 2021
Erica Michelle Levy has an estimated net worth of approximately $5 million. She has made her money from her professional career. Online sources say she earns somewhere between $500k to $800 as a salary.
How successful is Erica Michelle Levy?
Erica Michelle Levy is still successfully working in her chosen field of journalism. According to her husband, they currently live in what was her 'dream house' growing up and is happily married to the love of her life and father of her daughter. She is pretty successful.
Her husband revealed during a 2019 interview
It was Erica's dream house growing up, She lived on Hermitage, went to Shaker schools. Our daughter goes to schools nearby.
Where can I found Erica Michelle Levy?
Erica Michelle Levy is active on social media where she has a decent following and stays active with her community.
Erica Michelle Levy Twitter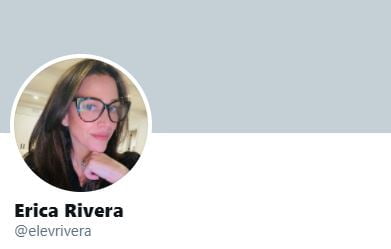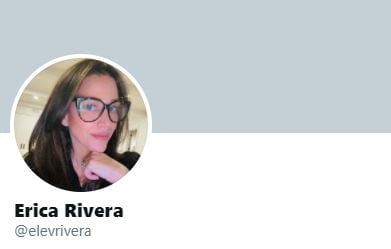 She can be found on Twitter, where she has over 500 followers since joining in 2012.
Erica Michelle Levy Instagram


Erica Michelle Levy also keeps an active Instagram account where she has over a thousand followers.
What does Erica Michelle Levy do now?
The mom of one is currently the co-host: "Geraldo In Cleveland" #wtam1100 and "Roadkill" podcast
Geraldo Rivera bio
Geraldo Rivera was born Gerald Michael Riviera on July 4, 1943, in New York City.
His news entertainment career began in 1970 when he was hired as a reporter on WABC-TV. He earned international fame thanks to the eponymous show "Geraldo" which ran from 1987 to 1998.
Geraldo, a distinguished journalist was awarded various times for his incredible work in journalism. He won seven times Emmy awards, and Peabody award for his report on abused and neglected mentally retarded patients.
Geraldo Rivera personal life
Geraldo Rivera is of Jewish-Puerto Rican descent. His father Puerto Rican, Russian-Jewish mother.
Rivera is an avid sailor and donated his sailboat Voyager to the Maine Maritime Academy
Donated his Celebrity Apprentice prize winnings to the charity Life's WORC, an organization helping autistic children.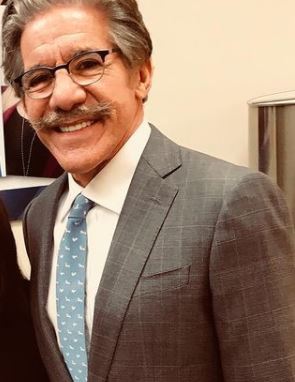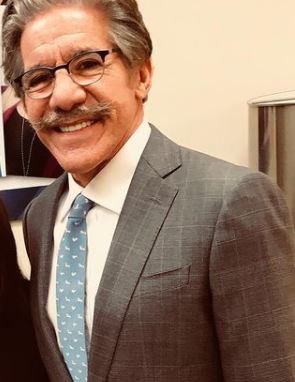 Apart from this outstanding career, Geraldo Rivera is known for being unfaithful. He has publicly admitted to cheating on his four previous wives!
In his lifetime, Rivera has been married 5 times and has fathered a total of 5 children.
Geraldo Rivera age, height and weight
77-year-old Rivera stands at 1.76 m and his weight is approximately of 71 kg.
Geraldo Rivera wife?
He was previously married to Linda Coblentz, Edith Vonnegut, Sherryl Raymond –with whom he fathered son, Gabriel Miguel –and C.C. Dyer –with whom he became the father of daughters, Isabella Holmes and Simone Cruickshank. Geraldo is also the father of Cruz Grant, from his relationship with a Mexican woman.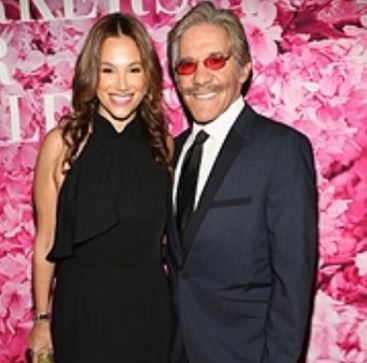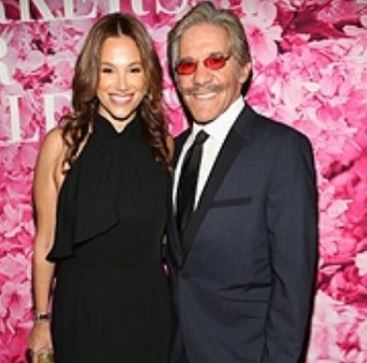 Geraldo Rivera's first spouse was Linda Coblentz, and they were married between 1965 and 1969.
After that, he married Edith Vonnegut in 1971 and stayed with her until 1975.
Between 1976 and 1984, he was in a relationship with Sherryl Raymond. With her, Geraldo has a son named Gabriel Miguel, born in 1979. He also has a son named Cruz Grant to a Mexican-American woman.
Cynthia Cruickshank Dyer was the fourth partner of the talk show host, and they were married between 1987 and 2000. Together, they have two daughters: Simone and Isabella.
Is Geraldo Rivera married to Erica Michelle Levy?
The answer would be yes, he is currently married to wife number five, Erica Michelle Levy. Together they share daughter, Sol Liliana born in 2005.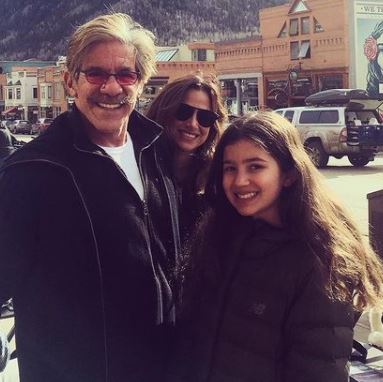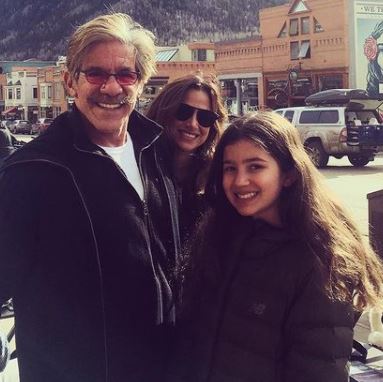 Where does Geraldo Rivera live?
In May 2015 Geraldo and Erica paid $5.6 million for an apartment in New York City. They put the apartment up for sale in November 2016 for $7.2 million. They ultimately found a buyer for $6.1 million.
He previously owned a smaller unit in the same building that he purchased for $3.4 million in 2011 and sold in 2015 for $3.96 million.
In 2017 Geraldo moved to his wife's hometown of Cleveland where they purchased a $2.8 million 13,000 square-foot mansion. They still own an waterfront vacation home in Edgewater, New Jersey.
In 2019, the veteran broadcaster said he would remain in Cleveland for the rest of his life.
Geraldo Rivera career
From 1994 to 2001 he hosted "Rivera Live" on CNBC.
Two months of the 9/11 attacks in 2001, he jumped over to Fox News. For the next several years Geraldo worked as a war correspondent, reporting from Afghanistan, Iraq, Kuwait and more. He had 22 combat assignments during this period, most of which lasted weeks at a time and put him in very dangerous situations.
From 2009 to 2011 he hosted "Geraldo at Large" on Fox News. He served as a Fox correspondent on various Fox programs for the next decade. Beginning in 2018 Geraldo launched a radio show in Cleveland.
How successful is Geraldo Rivera?
Rivera is regarded as an attorney, journalist, author, reporter, and talk show host. Easily recognized for his signature mustache, Geraldo Rivera first rose to prominence in the 70's and 80's, winning awards for his investigative journalism reports on abused patients, John Lennon's death, and Elvis Presley's death.
He went on to host a number of talk shows, and is currently the host of Geraldo at Large on Fox.
Geraldo Rivera awards and achievements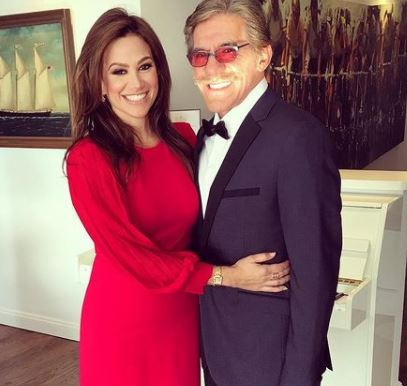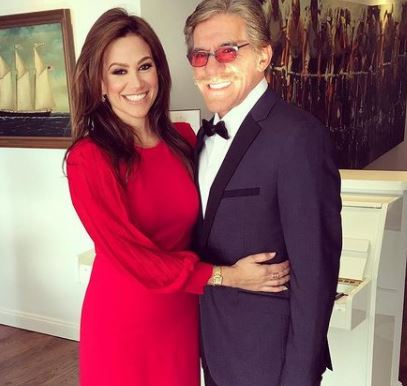 During his career Geraldo Rivera won seven Emmy awards and a Peabody award for his report on abused and neglected mentally retarded patients. As of this writing he has authored eight books. He was a contestant on Dancing with the Stars and The Celebrity Apprentice.
Geraldo Rivera Net Worth timeline
Geraldo Rivera began his career uncovering the poor living conditions at the Willowbrook State School for the mentally ill in 1972 while working for WABC; later authored his first book, Willowbrook, based on the scandal.
He was the first anchor to air the "Zapruder Film" of JFK's assassination on network television in 1975.
He published his autobiography, Exposing Myself, in 1991
Some of the most recent shows in which Geraldo Rivera has worked are "Fox and Friends," "Tucker Carlson Tonight," and "The Five." Apart from that, he is expected to appear in the documentary "Stallone: Frank, That Is."
Geraldo Rivera Net Worth in 2021
According to online sources, the longtime public figure has a hefty net worth of approximately $20 million dollars.
Where can I found Geraldo Rivera?
Rivera is not active on every platform, however his preferred social media channel would be Twitter.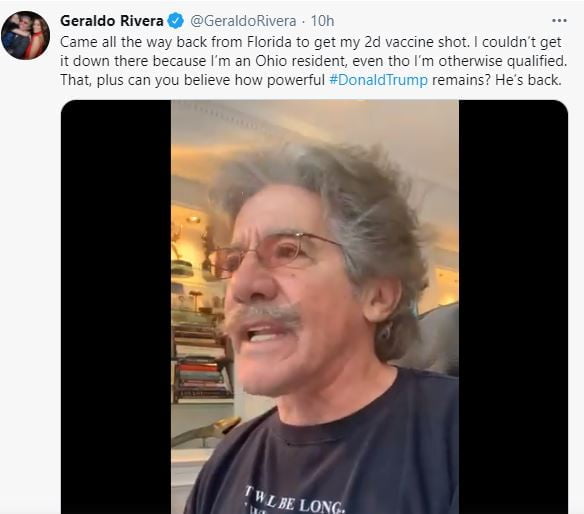 Geraldo Rivera Twitter
Geraldo is quite active on Twitter where he has over 330k followers. He writes on his bio
"loving husband and dad, loyal friend, fierce enemy, patriot, kick ass reporter, proud JewRican"
Rivera often shares his thoughts on all sorts of topics, specially regarding former president, Donald Trump. He recently tweeted
Came all the way back from Florida to get my 2d vaccine shot. I couldn't get it down there because I'm an Ohio resident, even tho I'm otherwise qualified. That, plus can you believe how powerful #DonaldTrump remains? He's back.
What does Geraldo Rivera do now?
Rivera broadcasts nationwide on FOX News and locally on Newsradio WTAM 1100, mostly from his home in Shaker Heights. He also keeps busy with his Roadkill with Geraldo Rivera podcast.