Hyla Ross
Hyla Ross is the lovely and supportive wife of former major league catcher, David Ross. Her MLB guy is a two time World Series champ and most recently, an author.
Hyla's hubby was born David Wade Ross on March 19, 1977. The Georgia native played for both Auburn and University of Florida.
He began his MLB career playing for the Dodgers in 2002. Ross won the World Series with the Boston Red Sox in 2013 and the Chicago Cubs in 2016. He's also played with the Pittsburgh Pirates, San Diego Padres, Cincinnati Reds and the Atlanta Braves.
The backup catcher finished his 17-year-career in style last year as he was carried off the field as the Cubs celebrated their first championship in 108 years.
Earlier this year, the Cubs gave him the role of special assistant to baseball operations and as if that wasn't enough to keep him busy,  Ross can also add the hat of reality star as he was casted in the upcoming season of DWTS.
Since you are such a huge fan of Hyla's husband and already know everything there is to know about his professional career, we'll go ahead and tell you all about lovely Hyla Ross in her top five facts below!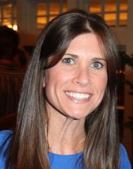 1. She works in the medical field
The lovely brunette is a licensed pediatric ICU nurse.
2. She is a wife and proud mother of three children
Hyla Ross and her husband have known each other for over two decades. The high school sweethearts, are the proud parents of daughters Landri and Harper; and a son, Cole.
3. She is active in charity work
Like most MLB wags, Hyla is very active in the community. According to Fabwags, she he and her husband are big supporters of the Hudson Foundation, Pediatric Cancer Research Foundation and the Kevin Faulk Foundation.
4. She is the 'calmed one'
As a family anecdote it turns out, the couple's son was rushed to the emergency room in 2014. According to ESPN, the boy couldn't breathe as a result of a asthmatic attack. Ross saw his wife, remain calm during the ordeal.  He recalled: She's the calm one, and I'm like, 'She's calm, I'm calm.'
5. Hyla Ross helped her husband prolonged his career
In 2013 Ross spent over two months in the disabled list due to concussions. His wife noticed he was not being himself and forced him to talk to the medical staff. He eventually saw a concussion specialist –who helped him get better.
6. Hyla Ross was on the brink of death.
In 2015 while pregnant with their third child, Harper, she suffered a partial abruption and was rushed to the hospital for an emergency cesarean section two months ahead of her scheduled due date. She could have bled to death.