Laura Perlongo
Laura Perlongo is the pretty wife of TV personality Nev Schulman -whom you may recognize as the host and creator of MTV's Cat Fish.
Laura's hubbry will be appearing in the upcoming season of DWTS, which is set to start on Sept. 14.
If you need to freshen up your memory on Laura's man, no worries. Born Yaniv Louis Schulman on September 26, 1984; the New York native rose to fame after his fated online love drama ended on screen as the subject of the "Catfish" film.
He began his career as a ballet dancer photographer and studied dance for five years and even performed with a company.
His photography has appeared in a number of magazines and newspapers such as Vogue, The New York Times, Lucky, New York magazine, the New York Sun and Dance Magazine.
His better half, Laura happens to be in the same line of business. Laura Perlongo is a freelance writer and photographer. Since then she has also earned quite the following on social media with over 255k followers on IG alone.
The two dated for about two years prior to their nuptials in 2017. The two first met on IG after exchanging DM's in 2015.
Laura became notorious back in 2016 due to her relationship with Nev. The two got engaged in May 2016 just a couple of weeks after they announced Laura's pregnancy. The couple welcomed a baby girl named Cleo James on October 21, 2016; out of wedlock.
They welcomed their second child, a boy Beau Bobby Bruce on January 9, 2019.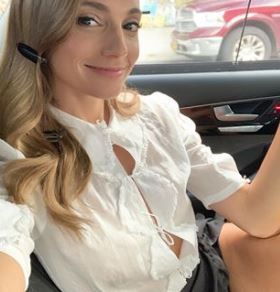 Laura Perlongo was born on September 6, 1985. She holds a degree in commercial and advertising art and social psychology from Boston University. According to her LinkedIn she graduated with honors in 2007.
Her professional resume states she worked as a copywriter and freelance creative. She worked at Haute Living Magazine as a staff writer. Laura is currently listed as a creative – copywriter. Additionally she worked as a senior creative for Mother New York and prior to that she was a travel writer for Party Earth. Her past clients include Calvin Klein, Derek Lam, Target, Vespa, Stella Artois, NBC, BBC, Chevy, Dewar's, Diamonds, Bloomberg, Barbie etc.
The spouse and mother of two is also behind the CleoJames Studio, a social media account where she shares cute snaps of her children.
Find Laura Perlongo on Instagram here.