Michael Brown's wife has been gracing our screens and entertaining us one way or the other, for over four decades. Brown is married to the lovely Marilu Henner. His 64-year-old red-headed beauty can scratch DWTS off from her list. Henner is currently singed up for season 23 of the hit TV show. She is currently partnered with returning pro, Derek Hough.
Born Mary Lucy Denise Henner, we all know her best from her role as Elaine O'Connor Nardo on the sitcom Taxi from 1978 to 1983. At 64, Marilu can also say she is a producer, radio host, author a mom and a wife.
Henner has been on Broadway many times in her career, including roles in Pal Joey, The Tale of the Allergist's Wife and the long-running revival of Chicago. In 1971 Henner was cast as "Mary" in a community theater production of a then-unknown rock-and-roll musical called Grease.
She has written almost a dozen books, with the latest being "Total Memory Makeover" which talks about her unique ability, Highly Superior Autobiographical Memory. If Henner wanted to write about love, she also would have plenty of material.
She has tied the knot three times. Her ex-husbands are Frederic Forrest and Robert Lieberman and is the mother of two children: Nicholas Morgan Lieberman and Joseph Marlon Lieberman.
There is nothing like a good love story and that is what she and hubby number three, Michael Brown and Henner have. Want to know more about Brown, we bet you do!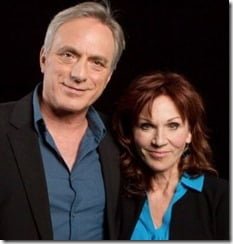 1. They first met while attending the University of Chicago, while she was dating Michael's roomate.
2. They bumped into each other in 1980 but he was married and living in Brazil and she was about to marry hubby number two.
3. He had no idea of her big celebrity status at the time.
4. Over two decades later, they found themselves both divorced in 2001 but Brown was diagnosed with bladder and lung cancer shortly after.
5. He underwent surgery and after waking up from the procedure, he proposed.
6. The couple tied the knot in 2006.
7. Brown's cancer is in remission.
8. Michael Brown is the father of three children from his previous marriage.
9. He has a twin brother.
10. Michael Brown worked as a merchant seaman.