Phyllis Clark
Phyllis Clark 65, is the ex-wife of iconic wrestler, actor and TV personality, Mr. T, real name Laurence Tureaud.
Her famous ex-husband is currently a contestant on season 24 of DWTS and since you probably know everything about Mr. T we thought you just might need a little freshen up before we get to his ex-lady. Below read some of his most interesting facts.
-Born Laurence Tureaud in a tough area of of Chicago on May 21, 1952 as one of 12 children, he was abandoned by his father when he was five. His mother brought up the family on welfare.
-Blessed with a brutal physique and a quick mind, he was encouraged to bodybuild and adopted his distinctive hairdo in his teens after seeing a picture of an African Mandinka warrior.
-He won a scholarship to play American football at the University in Texas but was kicked out after a year.
-Improbably, he dreamed of being a dancer, but instead became a bodyguard for the likes of Diana Ross, Michael Jackson and Muhammad Ali.
-He was twice named America's Toughest Bouncer.
-Mr T's cartoonesque character B.A. was so popular he got his own spin-off show.
-But playing B.A. Baracus – the mohican-haired mercenary weighed down by 20,000 of gold neck chains and a phobia of flying, gave him a lasting and lucrative legacy.
-More than twenty years later, Mr T is still pumping out the merchandise, from comic books to chocolate bars.
-For years, Mr. T was known for his trade mark hairstyle, his tough-guy image and gold jewelry –which he stopped wearing after Hurricane Katrina.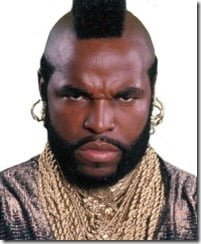 Here is what you need to know about the former Ms. T.
1. Phyllis Clark and Mr. T were married for decades.
Phyllis Clark and Lawrence Tureaud exchanged vows in 1971. By 2014, they were still said to be living together in a home in Los Angeles.
2. Phyllis Clark is the mother of three grown-up children
She and Mr. T welcomed three kids: Lesa, Erika, and T Junior.
3. She is the mother of a comedian daughter.
The couple's daughter, Erica Clark –is a regular on Chicago's competitive stand-up comedy circuit. Erica previously worked as a special education substitute teacher.
4. She underwent a psychiatric evaluation.
Back in 1997, it was reported Phyllis Clark underwent a psychiatric evaluation after an incident in which she allegedly rammed two police cars while attempting to avoid a speeding ticket. After the collision with the second squad car, Clark's car continued a short distance south in the northbound lane before colliding head-on with a Waukegan woman's car. At the time she was taken to Victory Hospital.
5. She once tried to strangle her daughter's teacher.
Accoridng to Erica Clark, her mother Phyllis Clark, once tried to strangle her teacher for claiming that Clark couldn't keep up with the other students in her Lake Forest class.
6. Mr. T might had cheated on her.
In 2014, Mr. T was accused of abandoning his illegitimate son, Alexander Taylor –who filed a $5.4 million lawsuit claiming that the actor had walked out on him because 'he did not fit into Mr. T's public image.'