Ron and Nellie Biles
Ron and Nellie Biles are the proud and supportive parents of U.S. Olympic gymnast, Simone Biles. Their daughter is the 2016 Olympic individual all-around, vault and floor gold medalist.
We could talk about Simone's achievements all day, at 20 she had been described as the best female gymnast that ever lived.
Last year she was a member of the gold medal-winning team dubbed the "Final Five" at the 2016 Summer Olympics in Rio de Janeiro but before Rio, Simone had already won ten gold medals at World Championship events from 2013 to 2015.
Following her success at the Olympics and in World Championship events, she has become one of the most decorated gymnasts in U.S. history.
Ron and Nellie Biles could not be prouder of Simone and Simone in return, could not be luckier to have them as her biggest supporters. Read more about them below.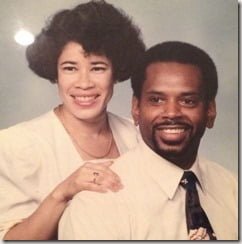 1. Ron and Nellie Biles adopted Simone.
Simone was welcomed in the home of Ron and Nellie Biles at age six. Simone's mother was declared unfit to raised her children due to drug addiction problems.
2. Ron is Simone's maternal grandfather.
Ron is the father of Shannon Biles, mother of Simone –who struggle with drug addiction and being a single mother, her children's father abandoned her. At first Simone knew Ron as grandpa but later began calling him dad.
3. Ron and Nellie Biles also raised Simone's sister.
Aside form Simone, Shannon also gave birth to daughter Adria and sons Ronald and Adam. After the children were taken for good from Shannon by child services, the boys were adopted by an aunt while Adria and Simone were raised by Ron and Nellie.
4. Nellie is Ron's second wife.
According to Fabwags, Nellie is a Belize native and Ron's second wife. She worked at a nursing home and Ron in air-traffic-control systems all over the country for the Federal Aviation Administration until 2010 when he retired.
5. Ron and Nellie Biles built Simone a gym.
Simon Biles' gym in Texas was built by her parents, and while Simone has been training there since 2014, it opened to the public in May 2016.
It's safe to say Ron and Nellie Biles will be cheering for their daughter as she takes on a new challenge in season 24 of DWTS.