Kayla Rae Reid is the hot and sexy model dating gold Olympic swimming star, Ryan Lochte.
I'm sure you've listened how Kayla's beau blew it by 'exaggerating' an alleged robbery he was the victim of while in Rio, but shouldn't we give the guy a break. After all, he is a gold medalist and if Kayla can, why couldn't we?!
The couple seems to be going stronger than ever, after finally admitting they are a 'thing.' Ryan thanked his 'girlfriend' as well as family and friends for the support he got after the on stage incident where men wearing anti-Lochte t-shirts protested against him.
Ryan's accomplishments in the pool have helped him gain pop culture status outside the pool. He has made cameos on episodes of 30 Rock and Beverly Hills 90210, as well as appearing on People's 2012 'Sexiest Man Alive' list. Most recently we can add to his resume appearing on DWTS.
Season 23 of the dancing competition has kick started with Lochte giving a decent performance. But what's perhaps more exciting is that his hot girlfriend will probably be there to cheer for him.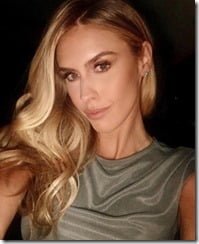 Things between the two seem serious. Kayla Rae Reid and Ryan's mom can be seen hanging out together while enjoying a night out. That means she pretty much has gained the stamp seal of approval from Ryan's mom so that is a good sign of where the couple is heading.
Want to know more about the stunning blonde. Read below:
1. Kayla Rae Reid attended Orange Coast College and Northern Virginia Community College.
2. She has been a Playboy playmate for Playboy Enterprises since 2014.
3. Reid has also worked for Monster Energy.
4. She was one of the Playmates on hand at the Playboy Super Bowl Party at AT&T Park in San Francisco this year.
5. She is active on social media, find her on Instagram here.