Taylor Hubbell
Taylor Hubbell is the proud and supportive husband of actress/singer Heather Morris –who is best known for her role of Brittany S. Pierce on the Fox hit show, Glee. 
Taylor's wife was born Heather Elizabeth Morris on February 1, 1987. Heather who was born in California but raised in Arizona showed an interest for the arts since the was a kid.
At age nine she began taking dancing lesson and went onto compete in a variety of styles including jazz, tap, and contemporary.
Following her graduation from Desert Mountain High School, she attended a local university but soon-enough realized she really wanted to pursue a career in the showbiz and moved to L.A. at 19.
She had her lucky break in 2006 after she landed a spot on So You Think You Can Dance Season 2 where she made it through "Vegas Week" without being cut, but failed to make the final 20 by a vote of 3 to 2.
Since then, Heather who is a trained jazz dancer, has danced backup for Beyoncé and Tina Turner between 2007 and 2008. She made the transition to acting in a small role in the movie Fired Up where she met choreographer Zach Woodley. Zach would later invite her to other shows including Glee. Did you know she was initially hired to train the cast but ended up becoming part of it?
Morris rose to fame after giving life to the" galactically" dim Glee Club lesbian cheerleader, Brittany.
Following Glee she has been featured in many magazine covers and has made several Maxim Hot 100 lists.
Morris will return to her first love, dancing as she has been casted on the upcoming season of DWTS. Meet the guy who will be cheering for her.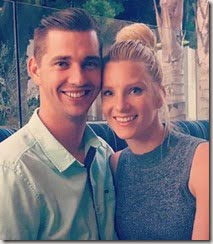 According to his LinkedIn, Taylor Hubbell is a Membership Director at North Ranch Country Club.
Taylor holds a Bachelor of Science from  University of Louisiana –where he was a baseball player. He previously worked as a golf professional assistant at Wood Ranch Golf Club. He was later named tournament director and membership director at American Gold Corporation.
The couple actually attended the same high school in Arizona but didn't become romantically involved until 2011, when Hubbell reached her on MySpace.
He made the move to L.A. to be with his lady in 2012 following his college graduation. The pair welcomed their first child a boy named Elijah Beckwith Hubbell, in September 2013.
After a few years dating an a child later, the two got engaged in 2014 and went for a May 16, 2015 wedding.
The now married couple welcomed a second son, Owen Barlett Hubbell in February 2016.
Taylor has been described as a devoted husband and father. He is also active on social media.
Check him out on Twitter here, Instagram here.