Joe Gnoffo is the actor husband of reality TV star, Terra Jole. We know Joe and Terra from Little Women L.A.; however you can catch the bold little lady in the recent installment of Dancing with the Stars. Joe's baby mama signed up for season 23 of the hit TV show, and can be seen shaking it with pro partner, Sasha Farber.
Joe's wife is the first-ever little person to be on the show. Aside from her reality TV star status, the wife and mom of two is also well known for her Mini-Britney and Mini-Gaga acts. Terra is a native of San Antonio, Texas. She was born May, 25 1980.
36-year-old Terra became a mom and married woman (in that order) last year.
She and Joe tied the knot on June 2015, shortly after welcoming their first born. She and fellow little person Joe Gnoffo were in a five-year relationship before they tied the knot last year. The couple recently became second time parents. Terra and Gnoffo welcomed their second child, a boy, into the world August 1st.
Want to know more about Joe Gnoffo? Keep reading below!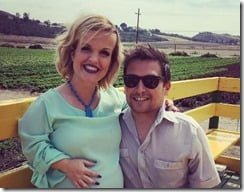 1. Joe Gnoffo was born August 12, 1975.
2. Like Terra, Joe was born with a form of dwarfism.
3. Joe Gnoffo played "Grub" on the 2012 film Mirror Mirror starring Julia Roberts.
4. Aside from reality TV, he's got credits on TV series including: Drake & Josh, According to Jim and Desperate Housewives.
5. Joe is also a musician, he plays the drums.
6. He and Terra have worked together appearing on reality TV: Little Women and it's spinoff, Terra's Little Family.
7. He is the father of two children with wife, Terra.
8. His children are, daughter Penny (born in March 2015) and son, Grayson Vincent.
9. Daughter Penelope suffers from hydrocephalus and had to undergo spinal decompression surgery earlier this year.
10. He has a YouTube channel: Throw Down Thursday with Joe Gnoffo.