Laura Giaritta is the long time wife of white rapper, Vanilla Ice. Her 49-year-old hubby is currently making his way into the hearts of DWTS fans! Ice, real name Robert Matthew Van Winkle signed up for season 23 of the hit TV show. He is currently paired up with pro Witney Carson.
During the season premiere of the show we couldn't help but notice the lovely blonde cheering on Vanilla Ice as he gave his all on stage. Truth be told, Laura Giaritta, who also goes by Laura Van Winkle, and her man, have had their fare share of drama in the past.
However we are glad to see they have stuck with each other through thick and thin. In the past, there have been a number of reports of the couple getting into domestic disputes or rumors of they splitting from each other.
In 2001, Ice was arrested in Florida for assaulting Laura after the two had engaged in a major argument as they drove. Robert had to go on probation and attend family therapy sessions. In 2004 Laura's husband was arrested again after assaulting his wife of seven years. In 2008 he was booked into Palm Beach County jail on a domestic battery charge after assaulting Laura again, allegedly after learning that she had been unfair.
In 2011 they were said to be separated but were seen attending the 2012 screening of the comedy film "That's My Boy."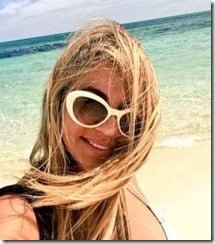 Read more interesting facts about Laura Giaritta below:
1. Laura was born in 1971.
2. Her parents are Elaine Giarritta and Thomas Giarritta
3. She has a sister named, Renee.
4. Together they opened an Extreme sport store in Miami, which they named after Ice's album – "2 The Xtreme".
5.  Laura met her hubby in 1995, at a Fourth of July party.
6. The couple tied the knot two years later in 1997.
7. Together the couple have two daughters.
8. Laura Giaritta gave birth to first daughter Dusti Rain in 1998.
9. The couple welcomed second daughter KeeLee Breeze in 2000.
10. She is active on social media, fin her on Twitter here.