It was premiere day yesterday for the gorgeous blonde Stephanie Leigh Schlund and her role as the beautiful but deadly Cashmere in The Hunger Games: Catching Fire. The actress looked gorgeous in yesterday's Premiere in Los Angeles. In the movie Stephanie is one of the new people Katniss and Peeta will have to face in the games!
She describes her role as
Beautiful but deadly. She's a master at manipulating crowds or one on one. She's confident, arrogant and fearless.
On her participation on a much more big and anticipated production, she said it's:
Surreal. I'm still adjusting to it all but thankfully it has not happened over night and I have had time to make adaptations in my life to be better prepared for what is to come.I kept the secret of being cast as Cashmere for about a month before being announced to the public. I just kept myself focused on preparing and training for the film. The Hunger Games fandom welcomed me with open arms and sweet comments—the support has been absolutely astounding.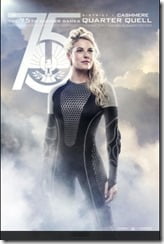 Stephanie who is best known for her T.V roles on FOX's "The Following", Lifetime's "Drop Dead Diva;" grew up in Atlanta, Ga with her younger sister. It was noticed at a very young age that her comfort zone was on stage. Stephanie's family claims it's "in her blood", as she is related to the late Gene Roddenberry. Stephanie is an avid supporter of animal shelters. according to her IMDb profile.
Some of her other roles include The Last Song alongside Miley Cyrus and fellow cast member Liam Hemsworth. She has also appeared in Stomp The Yard and was a model on The Price is Right before becoming an actress.
With the spotlight shining her way and being such a nice, down to earth gal she is bound to have that special someone somewhere right? So, we wonder who is the deadly Cashmere spending some cozy times?  On twitter she says
"I am and always will be the optimist, the hoper of far-flung hopes and the dreamer of improbable dreams."
She seems like a great catch! But apparently she is keeping her lips sealed about a special someone! In the meantime, see more of her photos on Instagram here and follow her on twitter here.