Chester Bennington
Products Mentioned On This Article
Chester Bennington, the singer-songwriter best known as the front man of hugely successful rock band Linkin Park has died at age 41.
Bennington, an idol around the world is said to have committed suicide on July 20th. His death was confirmed to the Associated Press by the L.A. County coroner. Bennington hanged himself at his Palos Verdes residence –just two months after Chris Cornell hanged himself.
The musician struggled with drug and alcohol addictions at various times during his life.  He spoke openly about both, as well as about being molested by an older man when he was a child.
Chester Charles Bennington was born March 20, 1976. The Arizona native became interested in music during his teenage years. He began doing drugs  to cope with the divorce of his parents and sexual abuse he had suffered.
Linkin Park's massively popular 2000 debut, Hybrid Theory, introduced the world to their immaculately produced hybrid of alt-rock, metal and rap. Linkin Park have sold more than 70 million albums worldwide and won two Grammy Awards.
The band's most recent album, One More Light, topped the Billboard 200 earlier this year.
In addition to Linkin Park, Bennington formed Dead by Sunrise in 2005 and also teamed up with Stone Temple Pilots after Scott Weiland's departure for one EP, in 2013.
Bennington is survived by his wife Talinda Bennington, former wife Samantha Marie Olit, and six children.
Samantha Bennington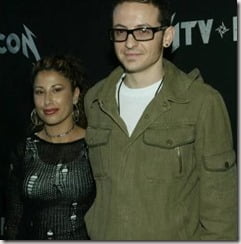 Bennington's first wife is Samantha Bennington, with whom he welcomed one child. He married Samantha on October 31, 1996. The couple ended in divorced in 2005.
She was born Samantha Marie Olit. She happens to be also involved in the music world. According to her website, as a teen, she surrounded herself with friends who were in bands, or worked for companies in the entertainment industry.
In 1996 she met Chester and encouraged him to audition for Linkin Park.
At the time of their marriage, Linkin Park was in its beginnings and the couple grew apart eventually taking their separate ways after nine years of marriage.
Samantha is the creator of Rhythm Kittens, a burlesque dance troupe that featured the best of modern jazz, hip -hop, Hula, Latin, dancing. She is also the founder of an independent label called, "SAM Records".
Find Samantha on Instagram here.
Talinda Bentley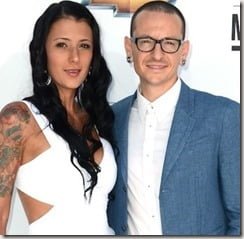 On the same year he divorced his first wife, Bennington married model Talinda Bentley, his second and last wife, with whom he had three children.
Mrs. Talinda Bennington was born on April 20, 1980 in Phoenix, Arizona; she appeared on Playboy's College Girls issue Spring 2000 & Spring 2002.
Before finding success as a model in the 2000s, Talinda worked a number of odd jobs during her teen years, including a waitress, a trainer, and a school teacher.
As a regular face in Playboy's issues, Talinda was introduced to Bennington by a mutual friend in 2004. The two began dating soon after.
Talinda Bentley is credited with helping Chester raise all of his children.
Children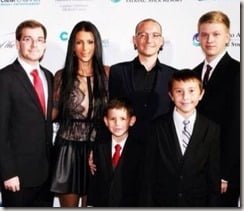 Chester had four sons named Isaiah, Jaime, Draven and Tyler; and two daughters named Lila and Lily.
Before he was ever married, Chester Bennington became first time dad with the birth of his son, Jaime. Who was born from his relationship with former girlfriend, Elka Brand. At the time he also adopted her son, Isaiah.
Draven Sebastian Bennington is Chester's son from his marriage to Samantha Bennington. Draven Bennington was born April 19, 2002.
Son Tyler, and twin daughters Lila and Lily, are his children from his second marriage to Talinda Bentley. Tyler was born in 2006 while the couple welcomed the twins in 2011.