Tracy Myers Denver
Tracy Myers Denver is the wife of former Navy SEAL Rorke Denver. Her hubby who became an author will also make his reality TV debut in the FOX series, American Grit.
Her husband, Commander Rorke T. Denver, a 13-year Navy SEAL and current author and actor, was named keynote speaker at the 2015 US Lacrosse Convention last year. Denver –who has run –every phase of training for the U.S. Navy SEALs, is known for leading special-forces missions in the Middle East, Africa and Latin America, among other international hot spots.
Denver is an honor graduate of the United States Army Ranger School. He holds a Bachelor of Arts degree from Syracuse University. Denver, who captained Syracuse as an honorable mention All-American defenseman and won two NCAA championships with the Orange in the 1990s, was known for his competitive spirit and stamina.
He earned a Master's Degree in Global Business Leadership from the University of San Diego. Denver spent 13 years as a platoon commander and training leader following his 1999 completion of the SEAL's Basic Underwater Demolition (BUD/S). Among the hundreds of missions he participated in or led, Denver's platoon completed 192 combat missions in seven months in the Al Anbar province of Iraq in 2006.
After returning to the United States, Denver was appointed flag lieutenant to Admiral Joseph Maguire, commanding officer of Naval Special Warfare, traveling to Afghanistan and briefing Congress on SEAL operations. In 2009, he became First Phase officer of SEAL Basic Training including Hell Week, then rose to Basic Training officer. He went on to run all phases of training including advanced sniper, hand-to-hand fighting, communications, diving and language.
Denver has since authored the March 2013 New York Times bestseller "Damn Few: Making the Modern SEAL Warrior," and he starred in the hit film "Act of Valor," which is based on true SEAL adventures. He appeared on the November 2014 cover of Lacrosse Magazineas the publication paid tribute to the U.S. armed forces in conjunction with Veteran's Day.
Below you can read interesting facts about, Denver's pretty wife, Tracy Myers Denver, who also goes by Tracy Denver.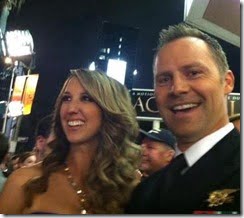 1. Tracy Myers Denver is originally from Lebanon, Kentucky.
2. Tracy Myers Denver was the 1998 Marion County Junior Miss.
3. She attended college at Bellarmine University in Louisville.
4. Tracy met her husband at a bar while he was a Navy SEAL in land/warfare training at Fort Knox and she was a college student.
5. Tracy Myers Denver is the mother of the couple's two young daughters
6. She has been quoted saying, "I never ask questions about what he does."
7. Tracy Myers Denver and her hubby attended three "Act of Valor" premieres.
Tracy Meyers Denver currently resides in San Diego, Calif. with her family.
You can find lovely Tracy Myers Denver on Twitter here.